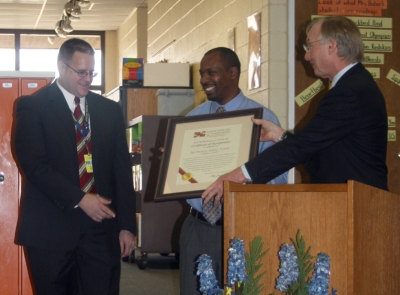 Maryland Comptroller Peter Franchot, pictured right, presents Piccowaxen Middle School Principal Kenneth Schroeck, left, and Piccowaxen Building Service Manger Raymond Lancaster, pictured center, with a 2010 Silver Hammer Award. The award recognize schools for superior maintenance. (Submitted photo)
LA PLATA, Md. (February 9, 2011) — Maryland Comptroller Peter Franchot recognized Piccowaxen Middle School for superior maintenance with a 2010 Silver Hammer Award on Monday, Feb. 7, at the school. The award recognizes schools that demonstrate a commitment to fiscal responsibility through superior school maintenance and a sense of pride in their school. Piccowaxen is one of 15 schools in Maryland to receive the award.
Superintendent of Schools James E. Richmond welcomed Franchot, who presented the award to Piccowaxen Principal Kenneth Schroeck and Raymond Lancaster, building service manager at the school. Franchot said providing students with a clean, attractive and comfortable facility helps provide them with a positive learning experience.
"I am here to salute Mr. Lancaster and am delighted to present this rare award on behalf of Maryland. It takes a team effort to maintain older facilities and the faculty and students deserve a lot of credit for taking care of this building," Franchot said. He is a member of the Board of Public Works, which oversees the state's annual Public School Construction Program, and recognizes that effective maintenance in schools impacts student performance.
Winners of the Silver Hammer Award are first recommended by the school system and in addition to the award presentation at the school, representatives will be invited to the Comptroller's office in the spring for an end-of-year reception.
During his visit to the school, Franchot also visited with students in the Future Educators Association (FEA) and Principal's Advisory Committee, and toured a Gateway to Technology classroom. He also spoke with several students about their aspirations to study politics and engineering.
Source: Charles County Public School System