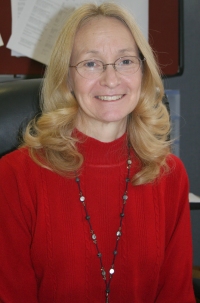 Maryann Bourassa, content specialist in gifted education for Charles County Public Schools. (Submitted photo)
LA PLATA, Md. (February 8, 2011) — Maryann Bourassa, content specialist for gifted education with Charles County Public Schools, will be honored as an Outstanding Educator in Gifted Education – Program Coordinator, later this month by the Maryland State Department of Education's Maryland Advisory Council on Gifted and Talented Education. Each year, the Maryland State Advisory Council on Gifted and Talented Education honors educators and parents for their contributions in developing talents of Maryland students from all populations in gifted education.
Bourassa said she is humbled to receive recognition for something she enjoys doing each day. "I am honored to receive state recognition for my work in gifted education. I work with outstanding colleagues in our county and across the state, and I am proud to have been selected for this award."
She was nominated for recognition by Mary Seremet, secondary gifted education resource teacher, and Joyce Campbell, elementary gifted education resource teacher, for expanding the gifted education program in Charles County, for providing leadership in establishing a successful gifted education identification process, and for helping to develop curriculum for gifted students. In their nomination statement, Seremet and Campbell state that Bourassa was essential in the expansion of gifted services to Charles County Public Schools students. "Maryann voices our system accomplishments and initiatives at many levels as she shares her understanding the need for a comprehensive identification and service model that reflects research based best practices. The resource teachers rely on her experience and expertise to tirelessly advocate for gifted children."
To further her training and knowledge in gifted education practices, Bourassa pursued additional certification in gifted education through a new, online graduate program in conjunction with North Georgia College. She also incorporated plans for ongoing professional development for gifted teachers to include the online certification program in order for them to learn best practices and expertise in the learning pedagogy. "Serving as a role model, Maryann was the first to complete the certification process in the fall," Seremet and Campbell wrote in their nomination statement.
Bourassa also attends state briefings on gifted education and shares topics with county resource teachers to keep them informed of state and national initiatives. Additionally, she attends state and national gifted conferences and has served on the planning committee for the Maryland State Conference to promote advocacy for students.
She will be honored, along with educators from other Maryland counties, at a Feb. 16 reception at the Miller Senate Building in Annapolis. Kathryn Stapleson, a gifted education teacher at T.C. Martin Elementary School, will also be honored at the reception as an Outstanding Educator in Gifted Education – Teacher as Leader in Gifted Education.
Bourassa has worked for Charles County Public Schools since 1980, when she was hired to teach at John Hanson Middle School. She taught language arts at Hanson for more than 17 years before assuming a gifted education resource teacher at the school in 1997. In 2003, she transferred to the Jesse L. Starkey Administration Building and was named the content specialist in gifted education in 2008. During her time at Hanson, Bourassa was a teacher partner mentor and sponsored the National Junior Honor Society.
She holds a bachelor's degree in English education from Glassboro State College and a master's degree in reading education from the University of Maryland, College Park.
Source: Charles County Public School System