DNR, stakeholders offer reward for information leading to rockfish poachers' arrest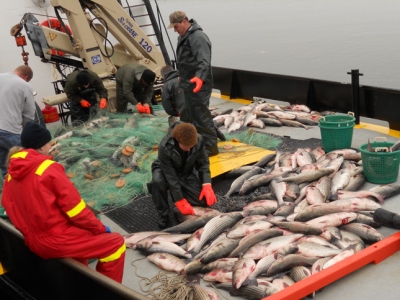 DNR personnel work to cut loose striped bass from seized poachers' nets which were discovered after a citizen tip. (Photo: DNR)
ANNAPOLIS (February 4, 2011) — The Maryland Department of Natural Resources (DNR) has shut down the February striped bass gill net season after Natural Resources Police (NRP) confiscated more than 10 tons of illegally caught striped bass in two days. NRP seized the 20,016 pounds of rockfish from four illegally anchored gill nets found near Bloody Point Light, south of Kent Island in the Chesapeake Bay.
"Wanton illegal behavior cannot, will not be tolerated," said Secretary John Griffin. "The people of Maryland have invested far too much time, effort and money into restoring striped bass, our State fish. These poachers are stealing from every Maryland citizen... including from our honest, hardworking watermen who follow the law. I particularly want to commend our dedicated Natural Resources Police officers, many of whom staked out the sites overnight, during terrible weather conditions."
Maryland's commercial striped bass fishery is managed on a quota system, in cooperation with the Atlantic States Marine Fisheries Commission; the commercial gill net quota for February is 354,318 pounds. When the illegally harvested striped bass confiscated by the NRP were deducted from the quota, DNR was forced to immediately shut down the fishery. The fishery will remain closed until DNR can determine the extent of illegal nets out on the Bay and the amount of striped bass caught in those nets.
"Watermen are allowed to catch about 300 pounds of rockfish per day. We seized 20,000 pounds. That means these poachers are stealing 66 days of work from honest watermen," said DNR Fisheries Service Director Tom O'Connell.
The State, along with the Coastal Conservation Association (CCA), The Maryland Watermen's Association, the Maryland Saltwater Sportfishermen's Association and the Maryland Charter Boat Association, is offering a reward of more than $7,000 for information that leads to the arrest and conviction of a person or persons responsible for setting these anchored gill nets in the vicinity of Bloody Point Light. Funding for the reward will come from dedicated funding as well as contributions from these stakeholder groups, who are publicly denouncing these crimes.
"Today's announcement demonstrates that illegal fishing that steals the resource from all Marylanders will not be tolerated," said CCA Maryland Executive Director Tony Friedrich. "We look forward to working with the Department and other stakeholders to insure that the penalties for these types of crimes are strengthened and those responsible are held fully accountable."
"The Maryland Watermen's Association is here to protect the honest fisherman," said Association President Larry Simns. "We'd like to do anything in our power to catch the person responsible for this and we'd hope they'd lose their license."
"The Maryland Saltwater Sportfishermen's Association is extremely disheartened and outraged over the events of the past several days," said Executive Director Dave Smith. "This type of flagrant disregard for the law and our vital resource must end. The MSSA is working with the Department and other stakeholder groups to put in place deterrents and meaningful consequences for these types of crimes."
The NRP found the first anchored gill net on Monday, January 31 at 2 p.m., the day before the February striped bass gill net season opened. Officers began a surveillance detail and after 17 hours without activity officers pulled up the net, which was full of rockfish. Officers continued pulling the net and offloading the fish until 9 p.m., when 6,121 pounds of fish were taken out of the 900 yards of illegal anchored gill net; 400 pounds were given to state biologists for use in an expanded gender sampling survey, and 5,721 pounds were sold.
Officers located another net at about 9 p.m. near the first net and began to pull it up immediately. NRP continued to load the net and fish into patrol boats throughout the night. While loading the second net, officers found two additional nets. The NRP worked until 5 p.m. Wednesday evening, landing an additional 13,895 pounds of illegally caught fish.
Officers also recovered 2,100 yards of anchored gill net from the Choptank River on Sunday, January 30, and 100 yards of anchored gill net from the mouth of the Chester River on Thursday. These nets had a few fish that were released alive.
Information on this crime may be called into the Natural Resources Police Catch-a-Poacher Hotline at 800-635-6124. Callers may remain anonymous.
More photos of the seized rockfish are available at
www.dnr.maryland.gov/dnrnews/pressrelease2011/020411_photos.asp
.
Source: DNR
RELATED INFORMATION:
Natural Resources Police Haul in Several More Tons of Illegally Caught Rockfish, February 02, 2011
somd.com/news/headlines/2011/13190.shtml