By DAVID SALEH RAUF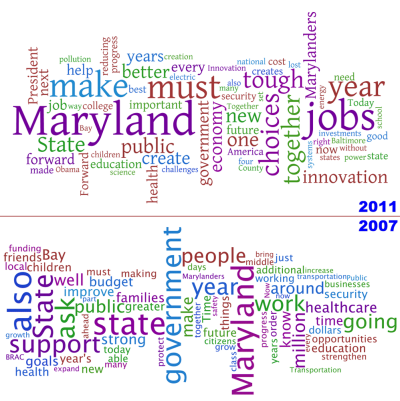 A Word Cloud comparing Governor Martin O'Malley's State of the State speech from Thursday with the one in 2007. A Word Cloud presents a picture of the most common words used with those used more often displayed larger.
Read the text of the speech
. [Click image for a larger rendition] (Cloud by Maryland Newsline's Collin Berglund)
ANNAPOLIS (February 3, 2011) — Gov. Martin O'Malley, borrowing a page from President Obama's State of the Union address, called on lawmakers Thursday to invest in advancements in education, clean energy and biotechnology to help spur Maryland's economic future.
In his fifth State of the State address, O'Malley laid out his road map for Maryland, emphasizing job creation, green initiatives, cyber security and stimulating innovation through public education—all themes sounded by Obama during his national speech last week.
"To make this new economy ours we must make the right choices and investment to create jobs by spurring innovation," O'Malley said in his address to the 188 members of the General Assembly. "Innovation is key."
Specifically, O'Malley called for creating new jobs through innovation and investments to entrepreneurs, promoting renewable energy and placing an emphasis on education as the foundation for success.
As he eases into his second term, the success of his policies will shape O'Malley's political future beyond the governor's office, observers say. O'Malley, whose political stock and national prominence is growing as chairman of the Democratic Governors Association, is frequently mentioned as a candidate for higher office.
For now, some lawmakers say, he's clearly aligned himself with the president's agenda.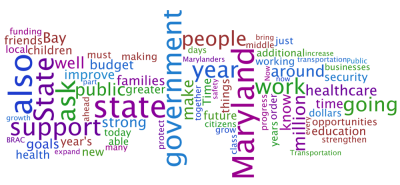 Word Cloud for the official Republican response to State of the State Address by Delegate Jeannie Haddaway-Riccio (R-Talbot).
Read the text of her speech
. [Click image for a larger rendition] (Cloud by Maryland Newsline's Collin Berglund)
"That is exactly he's doing," Senate Minority Leader Nancy Jacobs, R-Harford, said. "His success as far as his future job aspirations depends on that."
On Thursday, O'Malley quoted a passage from Obama's State of the Union address, one that invoked the spirit of innovation and education, and praised the president as "courageous." That level of synergy between a president and Maryland governor has not been seen for some time, said, Matthew Crenson, a political science professor at John Hopkins University.
"The president is talking about investing in the future and so is the governor," Crenson said. "There's not very much O'Malley can do to fix things now. The only thing he can do is respond to it. This is a way of sending a positive message that will make people hopeful."
O'Malley has infused a tone of cautious optimism into rhetoric this session as the state rebounds from a slumping economy and faces an estimated $1.4 billion budget shortfall. His proposed budget calls for slashing nearly $1 billion in spending but it also seeks to transfer hundreds of millions more from state accounts into the general fund to bridge the gap.
O'Malley has been criticized by Republicans, who say the governor needs to curb spending, not find creative ways to shuffle state funds. His State of the State address did little to quell those concerns, Republican leaders said.
In the party's response to O'Malley's address, House Minority Whip Jeannie Haddaway-Riccio, R-Talbot, said the GOP "expected a budget that was lean, that curbed spending and that addressed our structural deficit."
"While the governor has made a start, it simply is not enough," she said. "With spending still outpacing revenues, it will now be up to the Maryland General Assembly to do the heavy lifting."
O'Malley's roughly 28-minute speech included an appeal to the legislature to pass initiatives to pump $100 million into a new venture capital fund, boost solar energy and offshore wind farms and establish tax credits to build the needed infrastructure for electric cars.
He also defended his decision to maintain kindergarten through 12th-grade education funding at $5.7 billion, calling it a "strategic investment."
"We cannot kid ourselves into thinking that by failing to invest in our future, we're somehow saving resources," O'Malley said. "Everything has a cost. Failing to make decisions that are consistent with the best interests of the next generation, this too has a cost."
O'Malley has been publicly promoting the venture capital and energy ideas for weeks. His speech did little to present new ideas, but it still drew praise from Democrats.
"That's the best State of the State I've heard," said Sen. Bobby Zirkin, D-Baltimore County. "The amount of specificity, the substance and wide range of ideas, it was a lot to digest."
Zirkin also shrugged off assertions that O'Malley's speech echoed the presidents: "This is a classic Martin O'Malley speech."
One new idea that emerged from the speech is a ban on septic systems in major housing developments statewide to protect the health of the Chesapeake Bay.
The proposal drew instant backlash.
"That's a bombshell," said House Minority Leader Anthony O'Donnell, R-Calvert. "That would stop all jobs in rural Maryland."