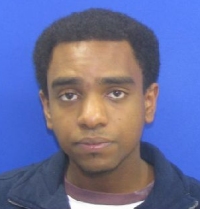 Jamie Clarence Tongue, 26, of Harwood, has been charged in connection with the August 30, 2010 bank robbery in Prince Frederick. Arrest photo.
PRINCE FREDERICK, Md. (February 2, 2011) — A twenty-six-year-old Harwood man has been arrested in connection with the August 30, 2010 robbery of the Maryland Bank & Trust located at 691 Prince Frederick Blvd in Prince Frederick, Calvert County. Jamie Clarence Tongue was arrested by members of the Calvert Investigative Team on January 30.
Tongue was charged with Armed Robbery, Robbery, Theft over $1000, Assault 2nd Degree, and Delivering a Writing that Threatens Injury with the Intent to Obtain Money.
Police say the male African-American suspect walked into the bank where he passed the teller a note announcing that it was a robbery and that he was armed. He left the bank after obtaining $1,100 in cash.
During the investigation of the robbery, police in Calvert Co. coordinated with the Anne Arundel County Police Department and Queen Anne's County Sheriff's Office who were investigating similar bank robberies believed to be committed by the same individual. That suspect turned out to be Tongue.
Tongue is currently incarcerated in the Anne Arundel County Detention Center.
Anyone with further information about the case is asked to contact Detective Mark Fitzgerald of the Calvert Investigative Team at the Calvert County Sheriff's Office at 410-535-1600 ext. 2772.