By LAURA E. LEE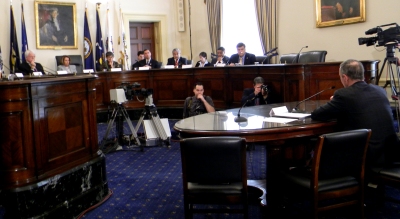 Gov. Martin O'Malley (seated in foreground) in testimony before the House Democratic Steering and Policy Committee Wednesday in Annapolis. (Photo: Laura Lee)
WASHINGTON (February 2, 2011) — In the face of tough economic challenges, states must continue to invest in infrastructure, education and innovation, said Gov. Martin O'Malley in testimony before the House Democratic Steering and Policy Committee Wednesday.
The committee guides the Democratic legislative agenda in the House. O'Malley testified at the invitation of Minority Leader Nancy Pelosi, D-Calif., and Minority Whip, Steny Hoyer, D-Mechanicsville.
The hearing focused on the House Democratic "Make It In America" legislative plan to create jobs and revitalize manufacturing by investing in infrastructure and technology. O'Malley, chairman of the Democratic Governors Association, answered questions from his fellow Democrats with ease.
Rep. Dutch Ruppersberger, D-Cockeysville, introduced the governor and praised his work on public-private partnerships to create jobs.
O'Malley thanked the members for casting "tough votes" for the American Recovery and Reinvestment Act.
"Your votes, your courage and our president's leadership kept our states from sliding into the second Great Depression," he said. The state of Maryland has received $775 million from the ARRA and the state's transportation department received another $494 million, according to Recovery.gov. Other agencies, governments and contractors throughout the state also received funding.
O'Malley credited the recovery act votes with enabling state and county governments in Maryland to attract General Motors Co. to build a new plant for electric motors in White Marsh.
Rep. Donna Edwards, D-Fort Washington, applauded O'Malley's leadership.
"For a small state, we're a mighty state," she said, "and it is largely due to your leadership and guiding us through what has been a difficult economic time."
The governor emphasized the importance of long-term vision and strategy when facing difficult global economic challenges.
"In this competition, there are going to be winners and there are going to be losers," he said. "The nations that win, the states that win will be those nations and those states that demonstrate the ability to balance something more than just their budget."
At every level of government, "there is always a tension between your operational needs and your longer term investments," he said.
Maryland will have to make significant budget cuts to meet the state's $1.4 billion deficit this year, O'Malley said.
One area of possible savings is an incentive plan to encourage state employees to retire early. But O'Malley said there have not been a lot of "takers" in the current economic downturn.
Despite budget shortages, the state continues to protect and invest in higher education and infrastructure. Even though "we are really hurting for roads dollars," the state is moving forward with plans for the Red Line in Baltimore and the Purple Line in Maryland, O'Malley said.
"What differentiates many of the actions that you see being taken by Democratic governors across our country, is that we believe that all of those things—the downsizing, the consolidating, the cuts and all of those things—are important means to an end." He described the end as an improving economy that will give the next generation better opportunities in the future.