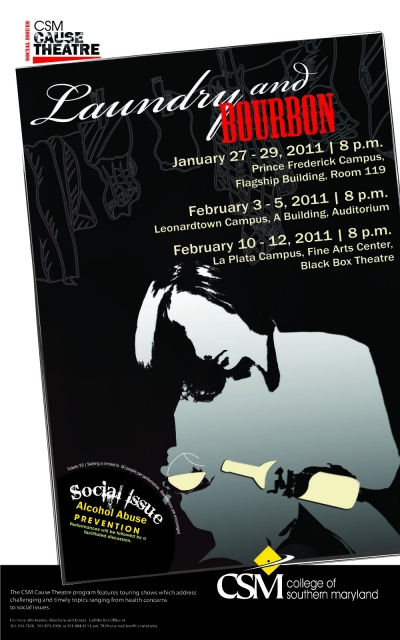 LA PLATA, Md. (January 29, 2011) — The College of Southern Maryland's Cause Theatre presents its cast for the winter production of "Laundry and Bourbon," a comedy in one act by James McLure.
CSM's Cause Theatre produces challenging and timely theater pieces that address health concerns such as substance abuse and sexual health and body image to social issues such as sexual orientation, racism, suicide, women's issues and sexual assault.
The program provides a unique forum in which audience members are encouraged to consider how subtle and not-so-subtle attitudes and behaviors affect experiences and actions.
"Laundry and Bourbon" welcomes the audience to back porch, Anywhere, USA where it's a hot summer afternoon in 1974. Elizabeth, Hattie and busy-body Amy Lee are folding laundry, drinking bourbon and Coke, gossiping, and exchanging insults while awaiting the return of Elizabeth's wayward husband, Roy, who hasn't been the same since his return from Vietnam.
The constant breeze on this sweltering summer night is not enough to cool down the heat amongst these girls as they compare husbands, bridge club rivalry, infidelity, the introduction of mahjong, how to raise children and how to pick the right door on Monty Hall's "Let's Make a Deal," which is blaring from the television in the background. The stoic optimism and patience Elizabeth shows for her missing Vietnam Veteran husband Roy melts the heart of even these caustic women.
CSM's cast includes Elizabeth played by Katie Reilly of Waldorf, Hattie played by Kim Turner of Leonardtown and Amy Lee played by Veronica Rivers of White Plains.
Performances are Jan. 27-29 at the Prince Frederick Campus, Room 119, Feb. 3-5 at the Leonardtown Campus, Building A, Auditorium and Feb. 10-12 at the La Plata Campus, Black Box Theatre, Room FA-143, all showing at 8 p.m. Tickets are $5. For information contact bxoffc (at) csmd.edu, 301-934-7828, or
www.csmd.edu/Arts/
.