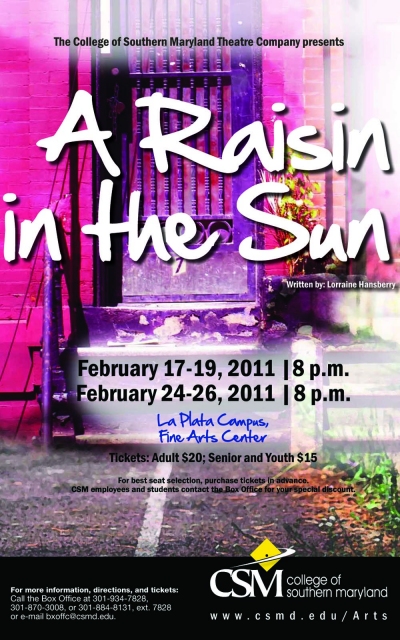 LA PLATA, Md. (January 29, 2011) — The College of Southern Maryland's Theatre Company presents its cast for the winter production of "A Raisin in the Sun," a play written by Lorraine Hansberry.
Set on Chicago's South Side, the plot revolves around the divergent dreams and conflicts within three generations of the Younger family. After the matriarch of the family, Lena's, deceased husband's insurance money comes through, she dreams of moving to a new home and a better neighborhood in Chicago.
Walter Lee, Lena's son, who is a chauffeur, has other plans for the money: buying a liquor store and being his own man. Walter Lee's sister, Beneatha dreams of medical school. The tensions and prejudice they face form this seminal American drama. Sacrifice, trust and love among the Younger family and their heroic struggle to retain dignity in a harsh and changing world is a searing and timeless document of hope and inspiration.
CSM's cast includes the Younger family played by Sonya Hemphill as Lena (Mama), Nkeshi Free as Ruth, Kevington Banks as Travis, Jeremy Hunger as Walter Lee, and Jasimine Felder and Alyshia Bradley both playing Beneatha, all of Waldorf. Joseph Asagai is played by Brian Taylor, Da-Jon Porter as George Murchison, Kenny Waters, Jr. as Bobo and Alex LaClair as Karl Linder, all of Waldorf. The three moving men are played by Alonzo Hatton of Leonardtown, and Ricky Jenkins and Rami Essa, both of Waldorf.
Performances are Feb. 17-19 and Feb. 24-26 at 8 p.m. Tickets are $20 for adults and $15 for youth/seniors. CSM staff and students may contact the Box Office for advance purchase discount. For information contact bxoffc (at) csmd.edu, 301-934-7828, or
www.csmd.edu/Arts/
.