Commentary by Ron Miller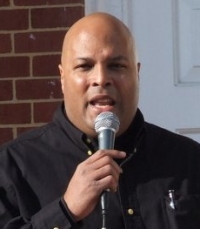 Flu season is no respecter of persons, so if you were looking for my column last week, I beg your forgiveness as I haven't been that sick in a long time. I'm better now and hoping to be at full strength soon.
Last week was the time for tributes to the Rev. Dr. Martin Luther King, Jr., whose birthday we celebrated on Monday and who would have been 82 years old on January 15th. I offered
my own assessment of King's legacy
, and in it, I mentioned some of the giants of the civil rights movement in America upon whose shoulders Dr. King stood.
How many people know, however, that three of the greatest fighters for freedom during the abolitionist era were born and raised in Maryland?
Maryland has its own civil rights icons that are worthy of recognition as we commemorate Dr. King this month and observe Black History Month in February. They are Josiah Henson, Harriet Tubman, and Frederick Douglass.
Josiah Henson may be the least well known of the three, but his autobiography was the inspiration for the character Uncle Tom in Harriet Beecher Stowe's world-changing anti-slavery novel, Uncle Tom's Cabin.
While some would question including the man who modeled Uncle Tom as a civil rights icon, the fact is that Uncle Tom is one of the most misunderstood and misrepresented characters in American literature. I try to give him his due in my book,
SELLOUT: Musings from Uncle Tom's Porch
:
Tom was a noble Christian man who endured the hardships of enslavement with amazing grace. He refused an order from Simon Legree, his cruel white master, to whip a fellow slave and was savagely beaten by Legree as a result. He also heroically resisted Legree's attempts to break him of his faith in Christ.

Tom comforted the other slaves, encouraged two of them to escape and refused to divulge their whereabouts to Legree. Because of this, he was beaten to death by two black slaves, Sambo and Quimbo, who acted as Legree's overseers. Tom forgave his assailants even as he was dying and they were so humbled by his mercy that they became Christians too. So Stowe's main character is a man of great dignity and Christian faith.

Tom represented Stowe's deliberate attempt to dispel the popular minstrel show stereotypes of black men as ignorant, lazy and frolicsome buffoons. In fact, it was the minstrel shows that subsequently took the Uncle Tom character and twisted him into a happy-go-lucky, boot-licking apologist for his white masters.
Josiah Henson was born a slave in 1789 on a farm near what is now Port Tobacco in Charles County. One of his early memories was of his father, back bloodied from lacerations and missing an ear, after he was beaten and mutilated for defending his wife against an attempted assault by a white overseer. Like many slave families, they were broken up; his father was sold to someone in Alabama, and his siblings were sold when their first master died.
He, too, was sold but bought back at the request of his mother so she could at least have her youngest child with her. He grew to be a strong, athletic, hard-working and trustworthy young man, and was soon appointed overseer of his master's farm in Montgomery County, near what is now north Bethesda.
His master eventually sold his slaves to his brother after incurring debts he couldn't pay, and he asked Henson to oversee the slaves' migration to Kentucky, where the brother lived. He had an opportunity while in Ohio, a free state, to escape, but he felt honor-bound to the commitment he made to his master. He also believed he could work to buy his freedom, and that was, by his reckoning, the honorable thing to do.
Henson raised the money to buy his freedom, but was cheated by his master, who eventually sold him to his brother as well. He decided to escape before he could be sold again, and in 1829, he escaped to Canada.
Once north of the border, he established a settlement as a refuge and new beginning for former slaves who escaped from the U.S. He became a noted preacher and abolitionist, and even served in the Canadian army as an officer. About 500 former slaves started new lives at the Dawn Settlement in Ontario, and while many returned to the U.S. after slavery was abolished, Henson and his family remained in Canada until his death in 1883 at the ripe old age of 93.
Henson is the first black man to be featured on a Canadian stamp, and the Dawn Settlement is a recognized Canadian historical site. The Arctic explorer Matthew Henson, who was born in Nanjemoy in Charles County, is Josiah Henson's great-grand nephew.
The home of the family in Montgomery County that owned Henson and the other slaves is being developed as an historical site, but is mistakenly referred to as the "Uncle Tom's Cabin Special Park." In fact, the actual slave quarters where Henson and his fellow slaves lived no longer exist.
Another great Marylander, Harriet Tubman, born a slave in Dorchester County, is best known for her role as the conductor of the "Underground Railroad". She was herself an escaped slave, and through her work with the Underground Railroad, smuggled dozens of other slaves, many of them her family members, out of Maryland and to freedom.
Few may know, however, that she served in the Civil War on the Union side, first as a nurse and cook, and later as an armed scout and spy. She was the first woman to lead an armed assault during the Civil War, and the raid she led resulted in the freedom of over seven hundred slaves. She later became an advocate for women's suffrage, working alongside Susan B. Anthony and other women in the movement.
Frederick Douglass, born a slave in Talbot County, is probably the best known of these three great civil rights warriors, and his rise from slavery to iconic status as an American orator, author and spokesperson for liberty, inspires people today across the political spectrum. His autobiography is
one of the most moving books I've ever read
, and I encourage everyone to read it.
Douglass was also a crusader for women's suffrage, declaring, "Such a truth is woman's right to equal liberty with man. She was born with it. It was hers before she comprehended it. It is inscribed upon all the powers and faculties of her soul, and no custom, law, or usage can ever destroy it."
A little known fact about Douglass is that he was an ardent supporter of the U.S. Constitution as an anti-slavery document, a position that was not universally held among the abolitionists of that day, and which would probably put him at odds with many of today's black leaders.
He was also critical of labor unions which, in their initial incarnation, were designed to exclude blacks from work opportunities and defend white workers against blacks and other minorities who were willing to work for lower wages. He believed that work was the pathway to success for the newly freed slaves, and viewed unions, which were actively racist, as obstacles to their progress.
Ironically, the man author and social critic Bill Bennett called "the greatest Marylander of all time" has not been appropriately recognized in Annapolis, the capital of his home state.
Conservative and liberal advocates alike have lobbied to have his statute placed in a position of prominence in front of the Maryland State House, a spot currently occupied by a statue of U.S. Supreme Court Chief Justice Roger B. Taney.
It was Taney who issued the infamous 1857 Dred Scott ruling in which he wrote, in part, "the black man has no rights which the white man is bound to respect."
In contrast, I give the last word to Frederick Douglass himself, a man whose stature and achievements in the midst of slavery, man's great inhumanity to man, should compel all of us to seek greatness without excuse:
We deem it a settled point that the destiny of the colored man is bound up with that of the white people of this country. ... We are here, and here we are likely to be. To imagine that we shall ever be eradicated is absurd and ridiculous. We can be remodified, changed, assimilated, but never extinguished. We repeat, therefore, that we are here; and that this is our country; and the question for the philosophers and statesmen of the land ought to be, "What principles should dictate the policy of the action toward us?" We shall neither die out, nor be driven out; but shall go with this people, either as a testimony against them, or as an evidence in their favor throughout their generations.
Ron Miller is a conservative writer and commentator, author of the book, SELLOUT: Musings from Uncle Tom's Porch, and the president of Regular Folks United, a non-profit organization dedicated to the advancement of individual liberty, free markets and our nation's founding principles. The nine-year plus veteran of the U.S. Air Force and married father of three writes columns for several online sites and print publications, and his own website, TeamRonMiller.com. Join him on Facebook and Twitter.