Huntingtown United Methodist Church Youth Donate 20 Bears "Bearing Burden" Project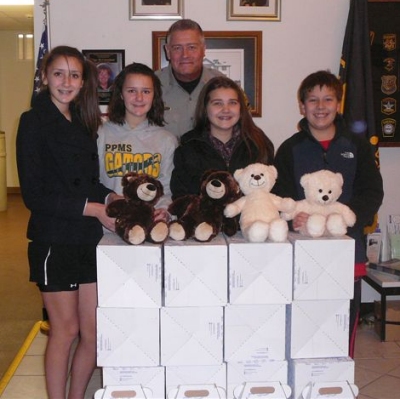 Left to right: Leah Deale, Kelsey Deale, Helen Isaacson and Zack Spain.
The youth of Huntingtown United Methodist Church presented Calvert County Sheriff Mike Evans with 20 bears they made for a "Bearing Burden" mission project. They were accompanied by Sheila Isaacson, Youth Director at the church. The youngsters raised funds through a dinner theatre performance in early December by the youth drama team, then traveled to the Build-A-Bear store in Annapolis where they built the bears. The hope of the mission is that "every child who receives one of the bears will know the love of Jesus Christ and that they are not alone to face their situation, whatever it may be, and they are cared for by others in our community." The Sheriff's Office will give a bear to comfort any child who is the victim, directly or indirectly, of an incident that may bring them in contact with a deputy.
Nam Knights of America Motorcycle Club Donate $1,200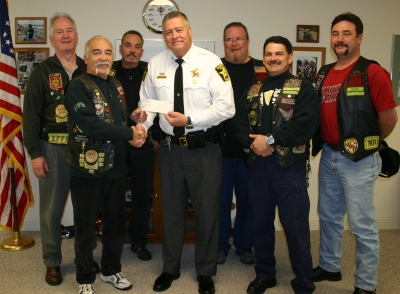 (Front row left to right) R.J. "Bomber" Nieves, President, Sheriff Mike Evans, R. "Rocky" Roccipiore, Vice President, and R. "Beef" Starling, Asst. Sgt. at Arms. (Second row left to right) M. "Stitch" Murphy, Treasurer, B. "BD" Durner, Road Captain, and S. "Spatz" Logan, Secretary.
The Nam Knights of America Motorcycle Club, Old Line Chapter, recently presented Calvert County Sheriff Mike Evans with a check for more than $1,200. This is the fourth consecutive year that the Nam Knights have graciously donated to the Sheriff's Office. The Nam Knights' mission is to honor military, law enforcement and public safety individuals who have given the ultimate sacrifice in the protection of our country and community and provide support to their survivors and families. The funds donated by them will be used to purchase a taser with an attached camera.