By Sarah Miller, County Times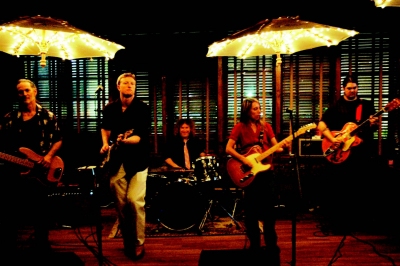 HOLLYWOOD, Md. — Some bands are comprised of members who focus solely on their band and making it successful. Then there are bands like Wolf's Hot Rods and Old Gas, which is comprised of people from different bands who play together simply because they enjoy jamming.
Steve "Wolf" Crescenze, the man the band is named after, said the group has been together for a couple of years, with different members rotating in and out in a regular basis. They play blues, rockabilly, roots rock and county music.
"What we are, we're all professionals who have other projects," Crescenze said.
He said there is a main, core group made up of Bart Balderson on drums, Lisa Lim on guitar and vocals, Tom Maxwell also on guitar and vocals and Crescenze on bass and backup vocals. There are also a couple members who play with the group on a rotating basis, including Wave Milor on harmonica and vocals and Zach Sweeney on guitar.
"We really highlight the guitars," Crescenze said.
At any given performance, Wolf's Hot Rods and Old Gas will have three or four guitarist onstage, and Crescenze said they will add a couple of guitar solos to songs.
"It's kind of a guitar feature performance," Crescenze said. There is a lot of call and response between the guitars, with them feeding off each other, and improvisation.
Milor said the musician's ability to play with so many guitars in a genre that wasn't necessarily made for them is a testament to the abilities of the members of the band.
"I think it's a pretty novel idea," Milor said.
He said the people rotate based on the location of the concert and their availability around the other groups they are involved in.
"It's like taking the top people from different bands," Crescenze said.
The members of the band are from locations all over Maryland and Virginia, like Gainesville and Fredericksburg.
"It's been a really good opportunity for me," said Maxwell.
Maxwell said joining Wolf's Hot Rods and Old Gas allowed him to go from barely playing at all to playing three times per week or more.
He described the sound of the band as "an old school bar band kind of sound."
The name for the group is indicative of the people the group is comprised of, Crescenze said. The youngest member of the group are "Hot Rods" in their early and mid 20s while Crescenze said he is the 'Old Gas" who is old enough to be their grandfather.
Even though the group is intergenerational, Crescenze said they have no trouble performing well together.
"When you get down to music, it kind of transcends age," Crescenze said.
Maxwell said Crescenze has a lot of experience, which helps the group to pick music that will work best for them.
Wolf's Hot Rods and Old Gas performs all over Maryland, with regularly scheduled gigs every month in Washington, D.C., and every other month at Bare Bones Grill and Brewery in Ellicott City.
Maxwell said the venue he looks forward to the most is Bare Bones because they get a good reception and a good crowd to play to.
"We have a good time there," he said.
The next concert for Wolf's Hot Rods and Old Gas will be at 8 p.m. on Jan. 14 at Fat Boys Country Store, located at 41566 Medley's Neck Road in Leonardtown. This is a regular concert, held on the second Friday of every month.
The event at Fat Boy's Country Store is part open jam, where various people can come in, sign up and play, and part concert.
"You never know who's coming, it's all pot luck," Crescenze said. The band gets to it's regular set later in the evening.
They will also be at the Beach Cove Restaurant on Bayside Road in Chesapeake Beach on Jan. 19 at 8 p.m. For more information, visit
www.wolfsmusicweekly.com
or
www.facebook.com/WolfsMusicWeekly
. To see samples of their performances, visit
www.youtube.com/wolfsmusic1
.