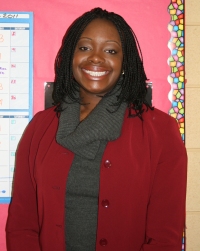 Michelle James, a school counselor at General Smallwood Middle School in Charles Co. (Submitted photo)
LA PLATA, Md. (January 25, 2011) — Michelle James, a school counselor at General Smallwood Middle School in Indian Head, was recently selected by the American School Counselor Association (ASCA) as one of 10 finalists for the national 2011 School Counselor of the Year award. The awards program honors counselors who serve as student advocates, are innovative, contribute to student achievement and coordinate effective counseling programs.
James said she was honored to learn she was named a finalist at the national level. "Being named a finalist for ASCA's School Counselor of the Year has truly been an honor. I am humbled by the recognition and excited about the opportunities and experiences this will bring. I believe that iron sharpens iron and because I have had the love and support of my family and the chance to work with outstanding students and parents, outstanding parents, and a talented set of educators, I am being given the opportunity to be recognized by a profession that I love and respect," she said.
She was nominated by Smallwood Principal Cynthia Baker for her passion and dedication to children. "Mrs. James is one of a kind. You can find her in a classroom training students on bullying, college knowledge or test taking strategies, or in the hallways greeting students with a warm smile. Her commitment and dedication are evident," Baker wrote in a nomination letter.
James has served as a counselor at Smallwood since August 2008, and is the counseling department chair, the Advancement Via Individual Determination (AVID) program counselor and coordinator, and coordinates the Saturday School program for students who need additional assistance. She also sponsors the student council association, peer mediation club, the Black Saga team and the yearbook clubs.
James said the overall goal of her efforts as a school counselor aid in providing students with a comprehensive program that addresses academic, personal, social and career development. "I advocate for students by giving them opportunities that they may not experience otherwise. I also advocate for students on an individual basis. Though I believe each student is responsible for achieving, some students need more support in areas than others. We have to meet students where they are in order to help them grow," she said.
She began her career with Charles County Public Schools in 2004 at Mt. Hope/Nanjemoy Elementary School, where she served as school counselor for four years. During her time at Mt. Hope/Nanjemoy, James co-chaired the annual community Thanksgiving feast, coordinated the Toys for Tots program and began a schoolwide monthly student recognition program for students. She also researched and implemented lesson plans to target student weaknesses in the classroom, and arranged group and individual sessions for those students who needed additional assistance.
In 2008, James was asked to transfer from Mt. Hope/Nanjemoy to Smallwood in order to continue working with the fifth-grade class. Jeanette Kaufmann, supervising school counselor for CCPS, said James' transition and willingness to follow her elementary students to a new school is just one example of her can-do attitude.
"While reluctant to leave her elementary school, she agreed to follow her fifth graders to a feeder middle school and develop a strong, outcome-based counseling program for Smallwood's 500 plus students. Michelle immediately took a proactive approach, meeting with students, parents and staff to learn about her new community," Kaufmann wrote in a nomination letter.
James also said collaboration is important in order for students to reach their maximum potential. "It takes a village to raise a child is not just a saying to me. When we all come together to work on an issue, more ideas are generated and we become more productive in our services to students," she said.
She will be recognized for her nomination, along with nine other finalists, during a three-day event in Washington, D.C., next month. She will also be honored by the Board of Education on Jan. 11 as part of a recognition for National School Counseling Week.
James received a bachelor's of science degree in human development and family science in 2002, and a master of arts in counselor education from The Ohio State University in 2004. She is also the membership and registration chair of the Maryland School Counselor Association and is nationally certified in school counseling.
Source: Charles County Public Schools