By Sarah Miller, County Times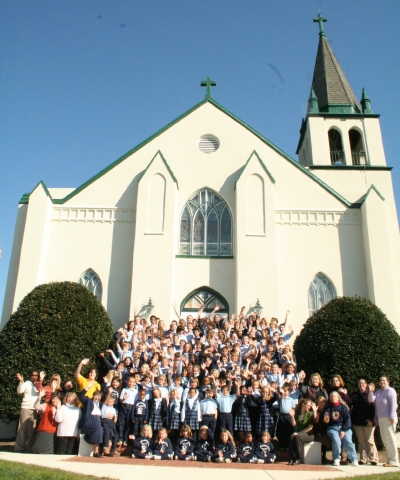 Students and staff pose at the front of Our Lady Star of the Sea School in Solomons, Md. (Photo: County Times)
HOLLYWOOD, Md. — The Our Lady Star of the Sea School in Solomons will be open and independent for another year.
The school hit its goal to raise $165,000 by January with about $25,000 to spare. The extra money will be funneled into their next fundraising goal, to raise another $165,000 by June.
Sister Carolyn Marie Betsch, principal of the school, said she isn't worried about meeting that goal as well, considering they have a lot more time in which to get it done.
"We've got a good chunk for the next one," said Sister Carolyn Marie.
She said in addition to the fundraising, the school will be trying to increase enrollment. Sister Carolyn Marie said the school is working on a long-term plan, and they can't just keep jumping from fundraiser to fundraiser indefinitely.
One activity the school is hosting to encourage enrollment is holding a "Bring Your Friend to School Day" tomorrow. During the day, children and their friends will be going from class to class together so students from outside Our Lady Star of the Sea can see what the school is like.
"We're excited about it," she said.
The goal of this event is to get potential students in the school to experience it, rather than just the parents at open houses, she said.
"There's so many positive things to entice people to send their children here," Sister Carolyn Marie said.
She said there were three communities at work to make the school's fundraising efforts a success – the school community, the parish community and the Solomons Island and Lusby community. She said there were several restaurants that had fundraiser nights for the school as well, such as Outback, Vera's White Sands Beach Club and Roy Rogers.
The Calvert Marine Museum donated the $650 through the Melvin Conant Memorial Youth Fund to allow the students to build the canoe that they are offering through a raffle. Calvert Marine Museum and Program Director George Surgent offered Our Lady Star of the Sea an opportunity to have the students participate in their "Build A Canoe" program at no cost.
The next fundraiser will be the Alumni Players Dinner Theatre. The production will be "Murder is a Game", a comedy-mystery, which will be shown Jan. 28 and 29, and Feb. 4 and 5. Call 410- 326-3008 for tickets.