By Guy Leonard, County Times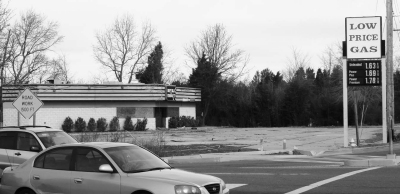 After years of deterioration a local developer has cleaned up a long abandoned gas station in Great Mills. The sign still displays $1.63 for unleaded gasoline. (Photo: County Times)
HOLLYWOOD, Md. — A long abandoned gas station at the corner of Chancellors Run and Great Mills roads may still be sitting there, but at least it's no longer falling down, say county officials who are happy to see the property owner clean up the site.
For years the former Dash-In convenience store that came to have the moniker Low Price Gas has been deteriorating, and in the past year the portico that sheltered gas pumps long since taken down had begun to sag and fall under its own weight.
Shrubs, weeds and other growth at the corner site have also been removed. Another abandoned gas station just across from the former Dash-In, owned by Besche Oil, was also in disrepair but has since been whitewashed.
A for sale sign still adorns the front of the building there. Both sites had been slated for some type of private, economic redevelopment that has yet to materialize for want of a strong economy.
Both have served as a constant reminder to the community of the blight that has taken hold on the aging Great Mills Road corridor since retail shopping blossomed in California along Route 235.
"It's a vast improvement over the appearance of the property before the cleanup," said Robin Finnacom, head of the county's Community Development Corporation. "At least in the interim it's a much more tolerable condition."
Developer Tom DeVenney planned a large project on a parcel of land that included the former gas station, according to county planning documents, but it has stalled.
The original plan called for 440 residential units and about 124,000 square feet of commercial space on the nearly 20-acre parcel.
"Moving ahead with a multi-million dollar project right now would be a challenging," Finnacom said of current economic conditions.
Andre Rice, local real estate agent and spokesman for De-Venney said that the developer was still looking into financing options to start the project, both public and private.
Rice said that the developer was investigating whether to make a deal with the local government to help pay for infrastructure and then repay the government once homes are built and sold on the property.
"Mr. DeVenney wanted to stay in compliance with any ordinance," Rice said of the decision to send work crews to clean up the site. "When the economic conditions changed the decision was made to delay the project because financing was impossible both for residential and commercial.
"We're looking at options to kick the project off. The project is not dead at all."