LEONARDTOWN, Md. (January 25, 2011) — The St. Mary's County Bureau of Criminal Investigations (BCI) Narcotics Division today released the following incident and arrest reports. The Division is an investigative team comprised of detectives from the St. Mary's County Sheriff's Office, Maryland State Police Drug Enforcement Division, and Federal Drug Agents (HIDTA Group 34). The Division was established on September 1st, 2007 and is based in St. Mary's County.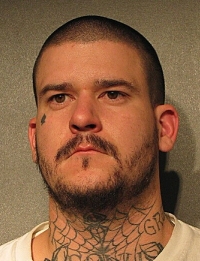 PRESCRIPTION MEDICATION FORGERY AND FRAUD: Pursuant to an ongoing investigation,
Johnson Randolph Beckwith
, age 26, pictured at left, was charged with several crimes related to a prescription medication case. The charges are for both forgery and fraud while obtaining prescription medication. Suspect Beckwith is currently incarcerated in the St. Mary's County Detention for a theft charge.

William Darago

Daniel Darago

Doris Harding
PRESCRIPTION MEDICATION ARRESTS: Vice Narcotics detectives observed a female selling prescription medication from her vehicle in a parking lot in Charlotte Hall. Doris Ann Harding, age 65, of La Plata, was observed selling prescription medication to Daniel Lee Darago, age 55, of Promfret. Suspect Darago was observed distributing some of the newly acquired pills to his nephew. All three suspects were detained. Suspect Daniel Darago was arrested and recovered from him were 3 Endocet pills — a controlled substance. Suspect William Bryan Darago, age 40, of Huntington, was found to be in possession of 30 Endocet pills. Suspect Harding was arrested and recovered from her person and vehicle were 13 Endocet pills, 31 Clonazepam pills, and more than $1,000. Additional charges are pending a review with the State's Attorney.
Disclaimer: In the U.S.A., all persons accused of a crime by the State are presumed to be innocent until proven guilty in a court of law. See: http://en.wikipedia.org/wiki/Presumption_of_innocence. Additionally, all of the information provided above is solely from the perspective of the respective law enforcement agency and does not provide any direct input from the accused or persons otherwise mentioned.