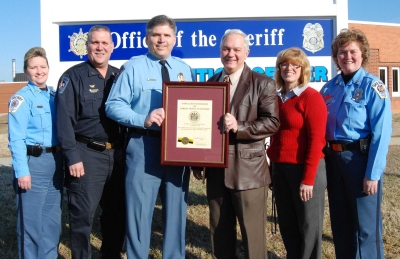 Pictured left to right: Captain Deborah Diedrich, Captain Michael Merican, Sheriff Timothy K. Cameron, Commissioner Daniel L. Morris, Ms. MaryAnn Thompson, and Captain Denise Hintze. (Submitted photo)
LEONARDTOWN, Md. (January 25, 2011) — The Maryland Commission on Correctional Standards (MCCS) recently presented Captain Michael R. Merican, Corrections Division Commander of the St. Mary's Co. Sheriff's Office, and his staff, a Recognition of Achievement Award for "100% Compliance of Standards for an Adult Correctional Facility." This is the third successive audit where the jail was found to be fully in compliance.
MCCS is an administrative agency within the State of Maryland Department of Public Safety and Correctional Services which was established by Act of the 1980 General Assembly. The enabling legislation is codified as Article 41, Section 4-401 of the Annotated Code.
The MCCS conducts regular formal audits of every State, local, and private adult place of confinement to determine applicable regulations promulgated by the Secretary of the Department of Public Safety. A primary stated goal of the agency is to facilitate total compliance with the standards, thereby fostering public safety, staff welfare, and inmate well being.