By Guy Leonard, County Times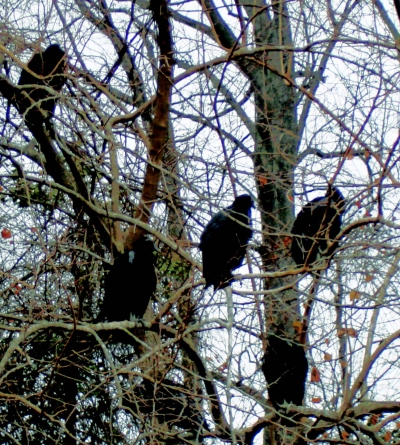 Library staff believe as many as 50 to 80 buzzards, or black vultures, are making a home next door. (Photo: County Times)
HOLLYWOOD, Md. — They're large, they're hungry and apparently here to stay. A large colony of buzzards or more accurately black vultures, a federally protected species, have called the wooded area next to the Lexington Park Library their home for several years, but lately, the library's manager says, they have become a nuisance.
But the problem is, said branch manager Terri Tresp, is that not everybody minds having the buzzards around.
As many people who have trepidation about the buzzards flying and walking around the parking lot, Tresp said, just as many seem to enjoy bringing their children to watch them and take pictures.
Some library visitors even feed them, she said.
A feral cat colony that shares the woods with the buzzards and also receives food from visitors could also be helping to feed the birds, Tresp said.
One woman throwing food into the woods Tuesday quickly attracted a flock of buzzards on the sidewalk to get an easy meal.
Some flew down from their perches on dead tree limbs while others skulked across the pavement.
"They've become a bit of a tourist attraction," Tresp told The County Times. "But they've become a problem."
Tresp said that she suspects that roof leaks and other damage to the building are due to the buzzards pecking and clawing away as they find a place to roost. Bits and pieces of rubber strewn throughout the library grounds make her think the large carrion eaters may be responsible, she said.
And then there is the noise the birds make when they decide to nest on the building itself.
"It sounds like heavy rodents on the roof," Tresp said.
They've also had at least one customer who was worried about getting out of her car for fear of the buzzards that surrounded it.
Tony Malaspina, head of the county's animal control division, said that despite the birds' proximity to the library, there is little to be done about them.
"They're a scavenger, but they're protected above our jurisdiction," Malaspina said.
Tresp said that when she called an animal nuisance hot line for the U.S. Department of Agriculture that the responder gave her a list of options (which she said were impractical) from fishing line on the roof to spray hoses around the property to keep the birds at bay — just about everything except having the buzzards eliminated.
Counting the birds is difficult, she said, but that has not stopped her staff from trying and they estimate the size of the colony to be between 50 and 80 birds.
"He gave me a whole list of things but we won't be considering them," Tresp said.
Though they have become troublemakers, Tresp said, she keeps a small, makeshift sculpture made from mussel shells and crustacean claws of three vultures nesting on wooden pylons in her office. It serves to remind her how ubiquitous the birds have become for better or for worse.
"We've come to think of them as our mascot," Tresp said.