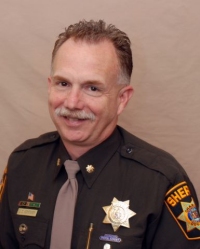 Assistant Sheriff Major Joseph Montminy may be single-handedly responsible for saving the Maryland taxpayers millions of dollars/year in police overtime and court administrative costs thanks to his research into no-show traffic court cases. (Photo: Courtesy CCSO)
LA PLATA, Md. (January 24, 2011) — Most people by now know that on January 1 a new law went into effect, changing the way motorists go about disputing a traffic ticket in court. Whereas before, trial dates were automatically established for payable traffic citations that went unpaid, ticketed drivers must now write the court and ask for a trial, or a waiver hearing in lieu of a trial, if they desire one. What most probably don't know is that the new law has it roots in Charles County — the Sheriff's Office to be exact.
The change in law stemmed from research by Assistant Sheriff Major Joseph Montminy, who noticed that too many officers were subpoenaed for court only to find out the driver failed to appear. Major Montminy also noted many officers were in court on their scheduled days off, costing the agency thousands of dollars in overtime.
Looking for ways to ease the burden of overtime costs and keep officers on the streets, Major Montminy conducted statewide research to see if his observations were accurate. He collected information from 16 other police agencies in Maryland.
Major Montminy discovered that during FY 2009, over 971,000 payable traffic citations were issued statewide. Of those, 530,000 people (54.6%) paid the fines. The court automatically scheduled trials for the remaining 441,000 drivers, and 274,000 of them (62%) failed to appear in Maryland District Court. In all of those noshow cases, a police officer was required to appear in court costing taxpayers nearly $838,000 in police overtime in one month alone.
Working with Maryland Delegate Sally Jameson (D-Charles Co.), Major Montminy and Phil Hinkle, General Counsel to the Sheriff's Office, presented the facts before the General Assembly and earlier this year, Senate Bill 560 (Chapter 195) and House Bill 829 (Chapter 196) were passed.
In recognition of his efforts, Major Montminy was awarded the Maryland Sheriff's Association "President's Award" in October of 2010.
"Joe's research literally paid off," said Charles County Sheriff Rex Coffey. "The change in law could save a lot of money for all police departments in Maryland."
RELATED INFORMATION:
New Law Changes Traffic Citation Trial Date Procedure Starting Jan. 1, December 09, 2010
http://somd.com/news/headlines/2010/12937.shtml