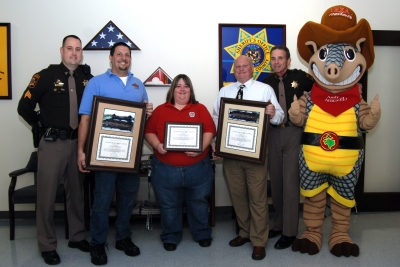 Pictured from left to right are Sgt. Chris Schmidt, a community policing unit supervisor who helped organize the Torch Run; Steve Urso, managing partner of Texas Roadhouse; Aileen Rose, operations manager for Rita's of La Plata; John Flatley, owner/operator for Chick-fil-a of La Plata; Sheriff Rex Coffey and, of course, the ever-smiling mascot of Texas Roadhouse, Andy Armadillo. (Submitted photo)
LA PLATA, Md. (January 24, 2011) — It was a donation of Olympic proportions: The Charles County Sheriff's Office last year raised $16,178 for Special Olympics Maryland, the second-highest donation to the organization in 2010.
"Our Special Olympics Maryland fundraisers are so massively successfully because we put a lot of effort into raising money for the athletes and because Charles County is such a generous and compassionate community," said Sheriff Rex Coffey. "Nothing amazes or gratifies me more about this than knowing we all work together not for ourselves but for the benefit of the brave and talented athletes who participate in Special Olympics."
At the Law Enforcement Torch Run International Conference in Long Beach, Calif., last October, Special Olympics officials recognized the Maryland chapter of the organization for not only raising more money than any chapter in the world but also for becoming the first chapter to exceed $4 million; Maryland raised $4.1 million. The state's donation was significantly higher than even the second-place fundraising state, New Jersey, which raised $2.7 million. Special Olympics has chapters in all 50 states and in more than 30 countries. It was the fourth consecutive year Maryland earned the top fundraising title.
The Sheriff's Office raises money for Special Olympics Maryland by sponsoring the Law Enforcement Torch Run, an annual fundraiser that raises money for the organization through the sale of T-shirts and hats. Four legs of the Torch Run, including Charles County's, carry the Olympic Torch — called the Flame of Hope — through Maryland to Towson University, where they unite to light a cauldron signaling the start of the Special Olympics Summer Games. The 2010 Torch Run was held June 10 and marked the event's 25th anniversary. Participants in Charles County converged on the parking lot of Texas Roadhouse in La Plata and from there ran four miles through La Plata or walked either a two-mile or five-mile route before returning to the Roadhouse, where volunteers from local businesses had prepared lunch for the participants. About 450Sheriff's Office employees and citizens including school students, United States Marines from the Chemical Biological Incident Response Force (CBIRF) Unit stationed at the Naval Surface Warfare Center in Indian Head and Special Olympics athletes and their families, participated in the Torch Run.
The Sheriff's Office's 2010 Torch Run donation also included money raised during the Tip-a-Cop at Red Robin in Waldorf, where officers visited tables to discuss Special Olympics with the restaurant's patrons, many of whom bought T-shirts or hats or offered their own donations. With the help of staff and management at Red Robin, the Sheriff's Office raised $4,960 for the Torch Run.
The Sheriff's Office thanked the following businesses and schools for their contributions:
Swann Construction Inc.
Potter Electric
County First Bank (Centennial Street)
Shear Heaven Salon
In Style Salon
Studio M Salon
Chattabox Salon
Clinton Fence Inc.
Potomac Internal Medicine & Pediatrics, LLC
Cutting Edge Hair Salon
La Plata Food Lion
Motor Vehicle Administration (Waldorf Branch)
Chick-fil-a (Waldorf)
Charles County State's Attorneys Office
PNC Bank (Indian Head)
PNC Bank (6315 Crain Highway)
Classic Image Hair Salon
Hunt Ford
Clinton Fence, Inc.
Beltway Paving
B&B Construction
Jelly Beans Daycare Center
Carruth & Son, Inc.
Thornton Funeral Home PA
Hairquarters Salon
Milton M. Somers Builders Club
United States Marine Corps (CBIRF)
Charles County Board of Education Building
Spring Dell Center
Law Office of Rudolf Carrico
Law Office of Robert Castro
Department of Parole and Probation
Wal-Mart (La Plata)
Wal-Mart (Waldorf)
High Schools
Maurice J. McDonough
Henry E. Lackey
La Plata
Thomas Stone
North Point
Middle Schools
Piccowaxen
Milton M. Somers
Matthew Henson
John Hanson
Mattawoman
General Smallwood
Benjamin Stoddert
Theodore G. Davis
Elementary Schools
Mary H. Matula
Mount Hope/Nanjemoy
J.P. Ryon
William A. Diggs
Daniel of St. Thomas Jennifer
J.C Parks
Berry
Eva Turner
T.C Martin
Malcom
Walter J. Mitchell
C. Paul Barnhart
William B. Wade
Arthur Middleton
Dr. Gustavus Brown
Dr. Samuel A. Mudd
Indian Head
F.B Gwynn Educational Center
The following businesses also provided services for the Torch Run:
Cheney Enterprises
Town of Indian Head
United Propane
Bernie's Frame Shop
La Plata Food Lion
Food Lion (St. Patrick's Drive)
Giant (Waldorf)
Giant (La Plata)
Safeway (La Plata)
Safeway (King Street)
Safeway (Waldorf Market Place)
Waldorf Jaycees
Texas Road House
Chick-fil-a (La Plata)
Famous Dave's
Outback Steak House (La Plata)
Utz
Circus Ice Cream
Rita's Italian Ice (La Plata)
Shoppers Food Warehouse
BJ's Wholesale Club
Sam's Club
For more information about the Sheriff's Office's fundraisers and other community outreach programs, visit its website, www.ccso.us — and stay tuned for information about the 2011 Torch Run.
Source: CCSO