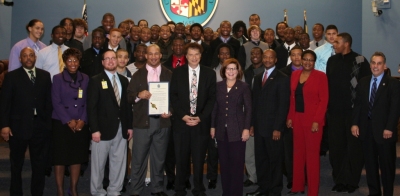 The McDonough Rams football team is recognized by the Charles County Commissioners for bringing home the 2A State Football Championship. [click photo for larger rendition] (Submitted photo)
LA PLATA, Md. (January 23, 2011) — The Charles County Commissioners recognized the McDonough High School Football team on January 11 for their recent Maryland Division 2A State Championship victory.
The Commissioners congratulated the players, coaches, and staff of the McDonough Rams football team and celebrated, their victory over the Middletown Knights of Frederick County, which earned them the State championship title — the fourth in McDonough High School's history.
"The Rams team demonstrated skill, tenacity, and sheer will in bringing home this highly coveted title—more importantly, they embodied a spirit of sportsmanship characteristic of champions," noted the commissioners in a statement.
The championship game took place at M & T Bank Stadium in Baltimore on Saturday, December 4, 2010.