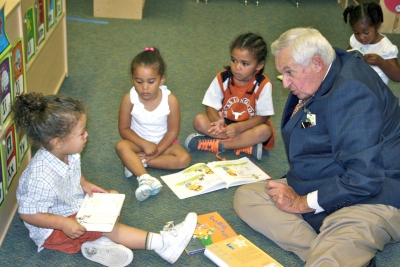 Superintendent of Schools James E. Richmond, pictured right, talks with three-year-old students, from left, Devontae Russell, Kalia Woods and Jakei Cobb. (Submitted photo)
LA PLATA, Md. (January 23, 2011 ) — Rachael Ashby was worn out after her first week of teaching a class of three year olds. "I thought, how in the world am I going to teach 15 three year olds to walk in a line, stay on the carpet, sit criss-cross applesauce, and raise a quiet hand on top of teaching them their colors, numbers, shapes and letters?" Three months later, and with what Ashby describes as patience and time, her students walk in a line down the Dr. Samuel A. Mudd Elementary School hallways, raise "quiet" hands, sit on the carpet and are discovering a love for learning.
Everything about the three-year-old program at Dr. Mudd is new. The students are enjoying their first school experience. The program was added to Dr. Mudd this year and Ashby is a first-year teacher.
As the children filter into Ashby's class, they place their photograph in the "in" box indicating they are present. They eat breakfast and then huddle on the rug to read and go over the morning calendar. This is early childhood education – three-year-old style – where children are getting a head start to ensure they are on par with their classmates by the time they get to kindergarten. While the program is new at Dr. Mudd, it's not a novelty for Charles County Public Schools (CCPS).
Started during the 2004-05 school year at Mt. Hope/Nanjemoy Elementary School, the first CCPS three-year-old program served children from the Mt. Hope and Gale-Bailey Elementary School zones. Funded by the William B. Gooding Even Start Program grant, the three's program was established for low-income families to better prepare children for academic achievement and school success.
Testing data from the students who attended the first CCPS three-year-old program shows early childhood intervention works. The first members of the three-year-old class are now in fourth grade and last year scored equal to or better than their third-grade classmates on the Maryland School Assessments (MSA). Superintendent James E. Richmond is convinced that the program not only works, but that early intervention is the key to closing the academic achievement gap. "The only way to close the achievement gap is to reach those children who traditionally start behind their peers in kindergarten and provide them with the opportunity to enter kindergarten reading ready and on the same level as their classmates," Richmond said.
Since starting the program at Mt. Hope, the school system has gradually added classes to four more schools, C. Paul Barnhart, Indian Head, J.P. Ryon and Dr. Mudd. Funding is now provided through Title I school allotments, which restricts enrollment to children meeting federal income guidelines. There are 75 children attending full-day three-year-old programs at the five schools.
"The best thing about teaching three year olds is being able to see the change and growth in each student on a daily basis and know that you were part of that. Seeing their faces light up as they learn to open their own milk, put on their own jacket and zip it up, identify letters around the room and raise a quiet hand, is truly amazing," Ashby said.
In Ashby's class, the children are eager to participate in the morning activities. That's the premise behind starting school at such an early age. "The earlier that we get to foster their love for learning, the better children do in school," Richmond said.
The three's program fosters language and learning through exploratory play, learning and circle time. Children in Ashby's class rotate through centers that expose them to early childhood concepts through reading, math and science, and they gain experience through community field trips to places like the library, supermarkets and fire departments.
Ashby agrees the program is important. "It exposes children to a classroom setting at an early age giving them an extra year to learn both academic and social skills that are crucial to their success. My students think they are playing most of the day, but really they are learning and exploring so many new concepts.
"My goal is to inspire each child to want to come to school every day and learn as much as they can. My mission is to provide these children with structure in the school system and teach them the rules and expectations within the classroom so when they leave my room they will be prepared for the journey that lies ahead," Ashby said.
Source: Charles County Public School System