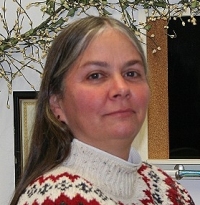 Jacqueline K. "Jackie" Vaughan, Calvert County's new director of the Department of Public Safety.
PRINCE FREDERICK, Md. (January 23, 2011) — The Board of Calvert County Commissioners recently named Jacqueline K. "Jackie" Vaughan director of the county Department of Public Safety effective January 4. She had been serving as acting director of the department since April 2010.
Ms. Vaughan has nearly 30 years of experience as a public safety professional for Calvert County government. She began her career in 1982 as a dispatcher in the Calvert Control Center and was promoted through the ranks, eventually reaching Division Chief of Communications in 2006. Ms. Vaughan has served as a volunteer with county fire departments and rescue squads and continues to serve on the Fire Rescue Commission, the Chief's Council, the Executive Hazardous Materials Response Team (HMRT) Committee and in the Emergency Operations Center.
Ms. Vaughan brings wide-ranging experience and first-hand working knowledge to the leadership of the Department of Public Safety. As director, she leads the 9-1-1 emergency call center — known as the Calvert Control Center — along with the Emergency Management and Safety Division, the Fire-Rescue-EMS Division, the Hazardous Materials Response Team and the False Alarm Reduction Unit.
The department works to mitigate manmade, technological and/or natural disasters and respond to emergency needs through the county's 100 percent volunteer fire-rescue-EMS service. The Department of Public Safety also serves as the local representative for homeland security issues, assists both the Calvert County Sheriff's Office and the Maryland State Police and works closely with Constellation Energy on emergency planning for Calvert Cliffs Nuclear Power Plant.
Visit the Calvert County Department of Public Safety online at
www.co.cal.md.us/government/departments/safety/
.
Source: Calvert County Board of Commissioners