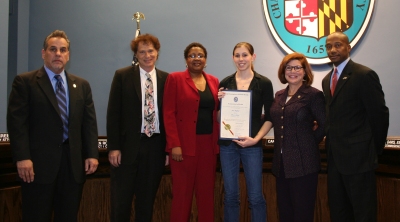 Jena Hatfield, third from right, is recognized by the Board of Commissioners for helping to save the life of a vehicle accident victim last November. (Submitted photo)
LA PLATA, Md. (January 22, 2011) — During their regularly scheduled meeting, Tuesday, January 11, the Charles County Commissioners presented a commendation certificate to Charles County resident Jena Hatfield for her heroic acts on November 2, 2010.
On that evening in November, Ms. Hatfield took a break from training at the Anne Arundel Police Academy with fellow classmates, Linwood Alston and Zeb Rohrback, when the trio witnessed an automobile accident. The vehicle's passenger was ejected and the driver was trapped in the vehicle, which came to rest in a retention pond.
Ms. Hatfield acted to save the life of the trapped driver by holding his head above water until the EMS team arrived.