Brian Ganz Seeks to Perform All of Chopin's Works over the Next Decade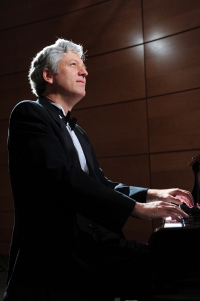 Brian Ganz (Photo: Michael Ventura)
ST. MARY'S CITY, Md. (January 22, 2011) — Starting in late January, St. Mary's College of Maryland artist-in-residence Brian Ganz will begin an attempt to perform all of composer Frédéric Chopin's approximately 250 works. He begins the ambitious endeavor at 8 p.m. January 22, 2011, at the Music Center at Strathmore in Bethesda, Maryland. He will play more Chopin pieces at St. Mary's College throughout the spring.
"Chopin's music is the language of my soul," said Ganz, who is widely regarded as one of the leading pianists of his generation. "One of my lifelong goals has been to study every single note Chopin composed. This project gives me a lovely framework within which to reach that goal." Ganz often performs Chopin's works at St. Mary's in what he calls 'piano talks,' where he mixes explanations of what you are about to hear with the performance.
Ganz, who hopes to reach his goal in 10 years, is researching the question of whether every work has been performed before by a single pianist. "Of course, the important thing is not whether I'm the first to do this," he said. "I'm excited to share works with Chopin lovers that they may never have heard before."
His first recital at Strathmore will feature a variety of solo works by the renowned composer, including several early pieces selected to showcase Chopin's initial promise and then more mature works that demonstrate the fulfillment of that promise. Future recitals will include all the chamber works and songs, as well as the complete solo works and each version of every mazurka and waltz.
When Ganz performs orchestral Chopin pieces, he will be joined by the National Philharmonic, led by music director and conductor Piotr Gajewski, who has embraced the pianist's plan wholeheartedly: "Brian is the perfect pianist to play all of Chopin's works - not only because of his great love for the composer, but also because of his intense connection with his audience."
To purchase tickets to the inaugural concert at the Music Center at Strathmore, visit www.nationalphilharmonic.org or call the ticket office at 301-581-5100.