Annual Governor's Crime Prevention Ceremony Honors Exemplary Work and Volunteerism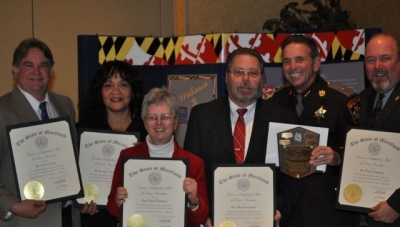 Left to right: Victor Curtis, Beverly Deniston, Diana Donohue, Allen Stevenson, Sheriff Coffey, Wayne Magoon. (Submitted photo)
LA PLATA, Md. (January 22, 2011) — Charles County Sheriff Rex W. Coffey is pleased to announce the Maryland Governor's Office of Crime Control and Prevention recognized the Charles County Sheriff's Office and six county residents for their for outstanding work in crime prevention programs at the 31st Annual Crime Prevention Awards Ceremony held in December.
Sheriff Coffey accepted the Governor's Crime Prevention Award given to those agencies that met the 2010 criteria for Comprehensive Crime Prevention programs in areas of personal, residential and commercial security. Among its efforts, the Sheriff's Office provides free residential and commercial security surveys and community crime prevention seminars. The Sheriff's Office also works with citizens to establish Citizens on Patrol and Neighborhood Crime Watch groups and participates in national efforts such as National Night Out and the McGruff safety campaign.
Victor Curtis, Beverly Deniston, Diana Donahue, Wayne Magoon and Allen Stevenson were recognized for their work as volunteer judges in the Teen Court program. Teen Court is a juvenile justice diversion program in which first-time offenders between the ages of 12 and 17 are judged by a jury of their peers and offered the opportunity to accept accountability for their minor crimes without having to incur a permanent record. The program is designed to reduce the number of youth offenders and educate them in a realistic court environment.
"Teen Court judges play a vital role in our Teen Court program. Their guidance, wisdom and ability to reach out to the young people who stand before them and their peers has been instrumental in helping teens make better choices in life," said Sheriff Coffey.
Karen Williams, Facilities Director and Community Affairs Director of the Town of Indian Head, was recognized for her dedication to promoting crime prevention programs. "Karen goes to great lengths to promote our crime prevention events. She cares about her community and often works beyond her shift, without compensation, to ensure an event is successful," said Sheriff Coffey. "And, Karen always offers to bake up a dish or bring desserts to any function she attends to make the event more enjoyable."
After the ceremony, Sheriff Coffey said, "I'm proud of the work performed by our officers and our county residents. Their willingness to go that extra mile certainly contributes to the overall safety of our county. Everyone is busy nowadays and it's difficult to take time out to volunteer, but all of our honorees made a commitment and their work has made a difference in our community. They deserve every bit of recognition for their efforts."
Source: Charles County Sheriff's Office