PRINCE FREDERICK, Md. (January 18, 2010)—The Prince Frederick Barrack of the Maryland State Police (MSP) recently released the following incident and arrest reports.
THEFT: On January 5 at 1:04 p.m., Trooper Logsdon responded to the 1900 block of Dale Lane in Owings for a reported theft. The rear Maryland registration plate was removed from a work truck in the parking lot.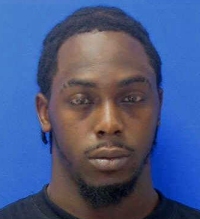 ASSAULT: January 8 at 12:29 am, Trooper Smith responded to Calypso Bay Bar on Solomons Island for a reported assault. A female victim was assaulted twice by her boyfriend. She had facial injuries and loss of blood which required her to be flown to Prince George's Hospital Center. The suspect fled the scene. A warrant has been issued for the arrest of
Antwaun Marquis Somerville
, 21, of Lexington Park, pictured. He is 5'3" and 150 lbs. He also has other open warrants in St. Mary's, Charles and Calvert Counties. Several weeks ago, Somerville fled from police in Charles County and left his 5-year-old child in the vehicle. If you have any information about Somerville's whereabouts, please call your local MSP Barrack or Sheriff's Department. Dialing #77 on your cell phone will connect you with the closest Maryland State Police Barrack. If you have any information about this case, please contact Detective DeFelice 410-535-1600 ext. 2669. You may remain anonymous.
BURGLARY: On January 8 at 8:51 a.m., Trooper First Class Saucerman responded to the 2100 block of Kings Landing Rd. in Huntingtown for a reported burglary. A Stihl 18" chainsaw was removed from the victim's garage. Investigation continues.
THEFT: On January 8 at 4:30 p.m., Trooper First Class Donaldson responded to the 6500 block of 10th St. in Chesapeake Beach for a reported theft of a dirt bike. A red and white Honda CRF80 was removed from the victim's property. Investigation continues.
DUI ARRESTS:
Nicholas J. DEMINO, 21, of Chesapeake Beach, arrested on 01/06/11 @ 12:30 am by TPR. R. Lewis
Russell SCHLEETER, 59, of Lusby, arrested on 01/08/11 @ 11:20 pm by TPR. C. Esnes