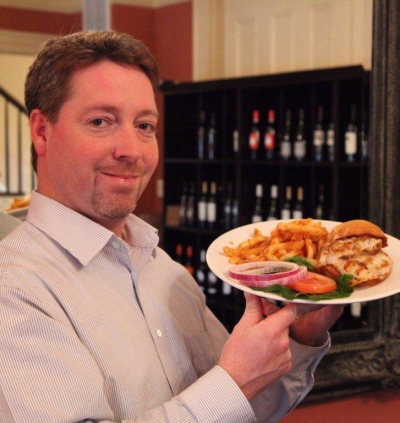 Chef/Manager Brendan Cahill takes the helm at The Front Porch restaurant in Leonardtown this year. (Submitted photo)
CALIFORNIA, Md. (January 11, 2011) — The Front Porch restaurant in Leonardtown begins the new year with newly appointed Chef/Manager Brendan Cahill leading the team. Chef Cahill will add his influence through an enhanced menu planned for roll out in early February.
Located in the restored Sterling House on Washington Street, The Front Porch serves as an anchor establishment for the historic downtown area of Leonardtown. The restaurant opened its doors last year.
Cahill brings extensive culinary and management experience, having over 25 years in the restaurant and hospitality industry. Most recently, Cahill and wife Ashley owned the Old Field Inn, a restaurant in Prince Frederick set in a preserved 19th century estate.
An active member and current board member in the American Culinary Federation (A.C.F.) Annapolis chapter for 15 years, Cahill also brings with him a knowledge of local growers and producers from which he'll source fresh seasonal items to include within the menu.
Cahill's interests extend beyond the kitchen to the historic significance of the Sterling House. "The history, the deep roots and hospitality of the Sterling family are elements I hope to emphasize," said Cahill.
Keeping the establishment rooted in the local community is also one of Cahill's priorities. Hanging artwork produced by local artists and hosting performances by local musicians are planned.
Cahill's
Oysters en Brochette
was awarded the grand prize in the 2008 National Oyster Cook-Off, held at the St. Mary's County fairgrounds in Leonardtown. Cahill said he plans to continue to participate in local culinary events and competitions.
Sterling House owners, Dean Beck and Jo Ann Beck are enthusiastic about the addition of Cahill. "Brendan's culinary and hospitality experience, local knowledge and interest in our historic site make him an excellent choice for the Front Porch," said Jo Ann. "He is a welcome addition to our team."
For more information about the restaurant, visit them on the web at
www.thefrontporchsomd.com
, call 301-997-1009, or Email info -at- thefrontporchsomd.com.