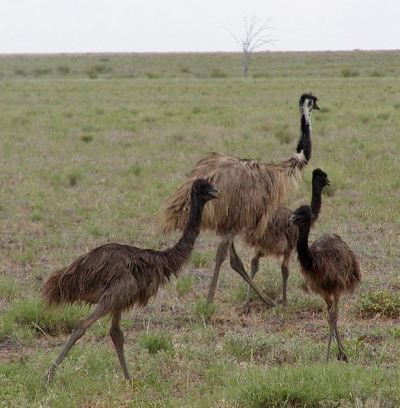 A family of Emu in Queensland, Australia — their native land. (Photo: Wikimedia Commons)
PRINCE FREDERICK, Md. (January 5, 2010) — If you spot an ostrich running down the road in Calvert County, no need to check your meds. The Calvert County Sheriff's Office Animal Control Unit today advised that an emu — similar in appearance to an ostrich — has been seen running loose recently in the Huntingtown area.
Emu can stand up to six and one half feet tall and run at speeds up to 30 miles per hour.
The Sheriff's Office began receiving calls about bird around the Thanksgiving holiday and at that time, it was reported to be in the Dunkirk area.
Animal Control officers have responded to several calls and have either lost sight of the bird or it was already gone upon their arrival.
At this time, the owner of the emu has not been identified.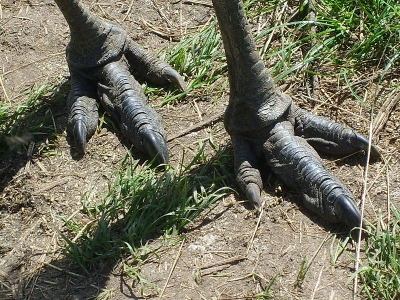 Emu feet. The bird uses its feet for self-defense. Combat with a human could result in severe injury to person. (Photo: Wikimedia Commons)
If you spot the emu, police caution not to approach the bird. Emu use their feet to defend themselves. The feet have toenails that are like a knife and combined with its powerful legs, can cause severe injury.
Authorities say if they are able to get the emu contained in a fenced in area, they can arrange for safe transport back to the owner or to another safe location.
Citizens are asked to contact the Animal Control Unit at 410-535-1600, extension 2526 or call 911 if the emu is in the roadway or creating some other type of emergency situation. Anyone who has any information concerning the owner of the emu should also contact Animal Control.