LEONARDTOWN, Md. (December 29, 2010)—The St. Mary's County Bureau of Criminal Investigations (BCI) recently released the following incident and arrest reports. BCI is an investigative team comprised of detectives from the St. Mary's County Sheriff's Office and the Maryland State Police, Leonardtown Barrack. The unit was established on July 1, 2003 and is based in Leonardtown.
COPPER WIRE/PIPE THEFTS: BCI is investigating burglaries to several businesses throughout St. Mary's County where large amounts of copper wire and piping have been stolen. Unknown suspects are believed to be operating vehicles capable of carrying large amounts of spooled copper wire and pipe sections. BCI is asking citizens to be alert for suspicious individuals, who would not normally be in possession of these types of products and/or vehicles carrying these products particularly during the night time hours.
Anyone with information regarding these burglaries or who observes a suspicious vehicle carrying spools of copper wire are asked to contact Det./Cpl. David Alexander at 301-475-4200 Ext. 1954 or Det./Tfc Nelson Nims at 301-475-4200 Ext.1947. Do not attempt to confront the person(s). Please call 301-475-4040 and ask to speak with the Duty Officer. Citizens can also text message information at TIPS 239 plus your message to 274-637 (CRIMES) or by calling Crime Solvers at 301-475-3333. Callers will remain anonymous and if a tip leads to an arrest and conviction the caller may be eligible for a cash reward of up to $1,000.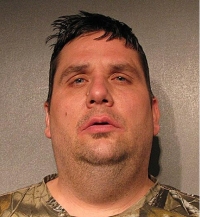 Gregory Wayne Arnold, age 38 of Leonardtown, was arrested after he allegedly fired a rifle at a car containing 5 adults and an infant over a traffic dispute. (Arrest photo)
FELON FIRES ON VEHICLE WITH INFANT OVER TRAFFIC DISPUTE: On December 22, officers responded to the area of Sassafras Lane and Zack's Way in Leonardtown for a reported man with a gun. Upon their arrival, they made contact with multiple victims who advised they were driving down the road when they were stopped by a citizen. After being stopped an argument ensued over a traffic infraction. During the argument the defendant, Gregory Wayne Arnold, age 38 of Leonardtown, produced an assault rifle and fired shots at the victim's vehicle. The victims got back into the car and attempted to flee. The defendant continued firing shots at the occupied vehicle while they drove away. The vehicle was occupied by five adults and an infant at the time of the assault. One victim was transported to a local area hospital for non-life threatening injuries. Officers responded to the defendant's residence and detained him without incident.
Detectives with BCI responded and assumed the investigation. During the investigation a loaded assault rifle and ammunition were recovered. A check of the defendant's criminal record revealed he is a convicted felon and barred from owning the assault weapon. The defendant was arrested and charged with Assault 1st Degree, Reckless Endangerment and Illegal Possession of a Regulated Firearm. The defendant remains incarcerated at the St. Mary's County Detention Center. Additional charges are pending a review with the State's Attorney's Office.