Missing for 335 days, dog had wandered 160 or more miles from Portsmouth, Va.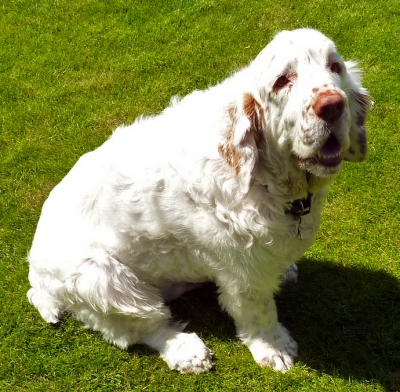 An example of the appearance of a Clumber Spaniel. (This image, which was originally posted to Flickr, was uploaded to Commons using Flickr upload bot on 20:46, 9 December 2009 (UTC) by Miyagawa)
HUGHESVILLE, Md. (December 16, 2010) — Willie Wonka is a Clumber Spaniel who lived in Portsmouth, Virginia. He was a retired show dog living the good life with his owners. On December 21, 2009, Willie Wonka disappeared from his backyard.
His owners notified the local humane societies, local police, and Clumber Spaniel Rescue. They posted flyers in their neighborhood, posted notices at the veterinary offices, and spent countless hours driving through neighborhoods looking for Willie Wonka.
After no luck finding their dog, the only conclusion Willie Wonka's family could come to was that he had been stolen. Even still, they never gave up hope that they would see their dog again.
On November 20, a stray dog was turned into the Tri-County Animal Shelter in Hughesville. It was a Clumber Spaniel. He was in rough shape. He had patches of hair missing, he was very dirty, and it appeared that he may have had an eye infection.
The dog waited and waited for his owner, but nobody came for him. The shelter staff listed him on an "At Risk" list that was sent to the humane organizations hoping someone would be willing to rescue him.
The list made its way to Clumber Spaniel Rescue. The folks at the rescue immediately knew this was Willie Wonka from Portsmouth. Willie's family was notified that he was safe and sound at the Tri-County Animal Shelter in southern Maryland.
Willie had wandered at least 160 miles from his home and by this time had been missing for nearly 345 days.
On December 2, Willie Wonka was reunited with his owners.
"The holidays came early for us this year!" exclaimed his family members. "We got the best present we could ever imagine."
We will probably never know what Willie went through, or how far he travelled, during his time missing. If only dogs could talk. Willie's story would make for a great book, or maybe a segment on Oprah.
The Tri-County Animal Shelter is located at 6707 Animal Shelter Road in Hughesville. The shelter staff can be reached at 301 932-1713 or 800-903-1992. Adoption hours are Monday thru Friday 12:00 noon – 5:00 p.m. and Saturday 10:00 a.m. – 3:00 p.m. If you would like to view animals that are available for adoption, visit
www.charlescounty.org/es/animalcontrol/
or
www.petfinder.com/shelters/MD112.html
to find your "purrfect" pet.