By STEPHANIE GLEASON, Capital News Service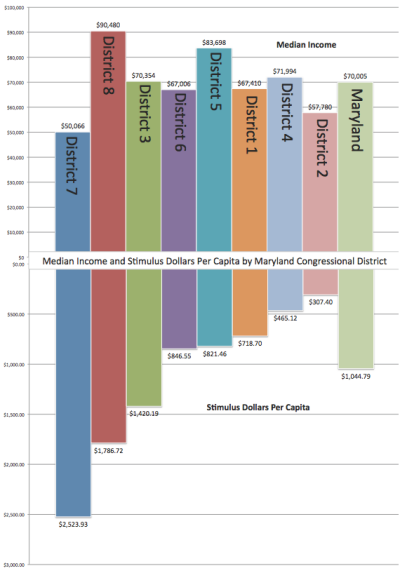 Chart depicts how federal "stimulus" funds were spent by congressional district in Maryland. Click image for larger rendition.
WASHINGTON (December 16, 2010) — Bethesda and Congressional District 8 received the lion's share of Maryland's per capita stimulus dollar awards, an analysis shows, despite the fact that the recession in Bethesda was the shortest in the state and District 8 has the highest median income.
The stimulus bill promised "to assist those most impacted by the recession," but Bethesda raked in an average of $8,006 per resident, the highest in the state, while Maryland as a whole received $1,044 per resident and some places received far less than that: Dundalk's average, for example, was just $15.28 per resident, the Capital News Service analysis of figures from Recovery.gov and the census shows.
Bethesda, in lower Montgomery County, weathered the economic problems of the past several years handily. Housing prices in Montgomery County are up 9.7 percent this year and October unemployment in the Bethesda-Frederick-Rockville metro area is 5.4 percent and never exceeded 6.4 percent this year. The median income in Bethesda is $133,000.
Nationally, unemployment still hovers near 10 percent and statewide it's 7.4 percent.
"Bethesda's recession was pretty short," said Sara Kline, Moody's Analytics economist for Maryland. The recession in the Bethesda metro area ended in October 2009, after 10 months. Maryland was in recession through May 2010, for 18 months.
Areas like Cumberland and Salisbury, which remain in recession according to Moody's analytics because of high jobless rates and falling home prices, received less stimulus money per capita than Bethesda, Rockville, Upper Marlboro, Frederick, Annapolis and Baltimore. Salisbury also received less than Germantown and Towson.
Cumberland's total is $2,835 per resident, and while still higher than the per capita average in Maryland, Cumberland has one of the lowest median incomes in the state at $30,105.
Unemployment in the Cumberland metro area, which includes parts of West Virginia, was 8.3 percent in October and has been as high as 11.1 percent this year. Allegany County home prices have fallen almost 5 percent this year.
Despite this, Cumberland city administrator Jeff Repp said, "I would definitely say we got our fair share. Any assistance is helpful."
City of Annapolis spokesman, Phillip McGowan couldn't comment on its share of stimulus dollars, but "in the context of the City of Annapolis having the budget cut by 13 percent," he said, the stimulus funds have been "timely and helpful." Excluding money allocated to statewide agencies located in Annapolis, the city received $3,669 per resident.
The stimulus bill was passed Feb. 13, 2009, with the purpose of creating jobs and promoting economic recovery, assisting those most affected by the recession, investing in technological advances, transportation and environment and stabilizing state and local government budgets.
Contracts, grants and loans, the part of the stimulus package Capital News Service analyzed, make up about 35 percent of the $787 billion stimulus package distributed nationally. The other 65 percent were tax benefits and entitlements, which include unemployment benefits, tax cuts, and Medicare and Medicaid funding.
Contracts, grants and loans are tracked by Recovery.gov and are awards over $25,000 to entities that must file reports on that money, as opposed to tax benefits and entitlements that went largely to individuals, who are not required to report money they received said Cheryl Arvidson of Recovery.gov.
Despite the goal of aiding those most affected by the recession, there is no general provision in the stimulus bill to favor projects in areas that were harder hit. The stimulus bill mostly left the responsibility of deciding how to award the funds up to individual federal agencies, but gives some guidelines like preference for quick start activities and buying American.
The stimulus funds have "not been well targeted," said Russell Roberts, professor of economics at George Mason University. From a national perspective, "the money has not been spent on the states with the biggest economic problems," he said.
The same is true for districts in Maryland.
District 8 is the wealthiest in Maryland, with a median income of $90,480, and was second in per capita stimulus dollars, receiving $1,786 per resident. District 8 is represented by Rep. Chris Van Hollen and includes parts of Montgomery and Prince George's counties.
District 7 has the lowest median income of any congressional district in Maryland, $50,066, and received the most stimulus dollars, more than $2,500 per resident. District 7 is represented by Rep. Elijah Cummings and includes much of Baltimore City, Baltimore County and Howard County.
But, neighboring District 2 has the next-lowest median income, $57,780, and received a fraction as much—$307 per resident. District 2 is represented by Rep. C.A. Dutch Ruppersberger and includes parts of Baltimore City, Baltimore County, Anne Arundel County and Harford County.
"In general the Recovery Act could have been better targeted," said Ethan Pollack, policy analyst with the Economic Policy Institute, but "I think there's too much emphasis paid to the end destination of the money." He explained that a company getting money and hiring workers can have a broader economic impact when those workers go out and spend the money in other places, ultimately creating more jobs.
"The end benefits will be very diffuse," he said.
Also, the stimulus bill had many objectives, said Neil Bergsman of the Maryland Tax Policy Institute.
"Remember the president and Congress had multiple objectives in mind when they passed the stimulus bill, and that's why they passed so many programs," he said, referring to tax cuts and Medicare, Medicaid and unemployment benefits. "Another goal of the program was to build a sound economy for the future with special emphasis on health, technology and green energy."
Research institutions like Johns Hopkins University, Science Applications International Corp. (SAIC) and University of Maryland , College Park and Baltimore, collectively received 10 percent of all stimulus money in Maryland—more than $610 million.
And while promoting research is a goal of the stimulus bill, in terms of this type of spending stimulating the economy, economist Russell Roberts said that it's great for the research and the researcher but those are areas with traditionally low unemployment.
"My take is the main beneficiaries of the stimulus are the ones who got the money," Roberts said, disagreeing with the idea that there is broader benefit of stimulus awards.
Moody's economist, Sara Kline, said that while it depends on the project, "I think (the money) is going to have the biggest economic impact in the area it is."
But, "if something's to improve infrastructure and might improve tax revenues, that might have a broader benefit outside the area," she said.
Overall, Maryland has received more than $5.8 billion in contracts, grants and loans stimulus money spent locally, which is about $1,044 per resident, as of Sept. 30, 2010. Maryland ranks 27th in the nation in per capita stimulus dollars according to an analysis by ProPublica, which differs slightly Capital News Service's by including information not available from Recovery.gov.
The Capital News Service analysis was done using place-of-performance data, which is the physical location where the money was used, according to Recovery.gov. So although much of the money was originally funneled through state and local agencies, the analysis shows better where the money actually ended up.
However, stimulus reporting stops at the sub-recipient level; for example the Maryland Department of Transportation received an award for nearly $3 million from the Federal Highway Administration. The Maryland Department of Transportation then awarded the money to Howard County for highway infrastructure. Theoretically, Howard County hired a contractor to actually do this work, but this third level of awards is not required to be reported. Nevertheless the place the highway improvement project took place would be shown in the database and those are the numbers reflected in the CNS analysis.