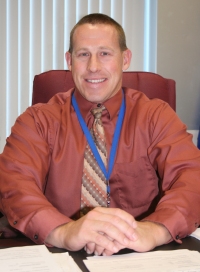 Donald Mayer is the 2010 Maryland High School Umpire of the Year. (Submitted photo)
LA PLATA, Md. (December 9, 2010)—Donald Mayer, a secondary instructional assistant at Thomas Stone High School, was recently named the 2010 Maryland High School Umpire of the Year by the Maryland State Association of Baseball Coaches (MSABC). He was nominated for the award for his professionalism, knowledge of umpiring rules and regulations, and for his dedication to baseball.
"It is an honor to win this award. The coaches are the ones that pick for this award and that means a lot to me. I enjoy working at the high school level and plan to continue to do so as I also gain college level umpire experience," Mayer said.
Mayer was nominated for the award by Guy Smith, head baseball coach at Huntingtown High School in Calvert County. Smith has known Mayer for more than 10 years and said he was a natural choice for recognition. "He is a very knowledgeable and professional style umpire. He is always willing to provide help and assistance to players and coaches. As hard as it is for coaches to sometimes give officials praise, it was easy to provide this award to Donnie because of his umpiring skills," Smith said.
Mayer has extensive experience in serving as a baseball umpire. He is an official with the Southern District Umpires Association, the Mid-Atlantic Collegiate/Northern Virginia Baseball Umpires and the College Baseball Umpires Assigning Organization. Mayer has also umpired at state events, such as the Maryland State All Star Game in 2007 and 2008 and the Maryland State High School Finals for the past four years.
Ed Glaeser, longtime varsity baseball coach at Stone, spoke on Mayer's behalf during the award nomination process and said he is an outstanding official. "This is an award usually given to older, more seasoned umpires but Donnie has climbed to the top in such a short time he made himself a worthy candidate and an easy winner," Glaeser.
He will be honored by the MSABC at a banquet planned at Oriole Park, Camden Yards in February. Mayer started his career with Charles County Public Schools in 1994 as a substitute and has worked at Stone as a secondary instructional assistant since 2004. He has also attended the College of Southern Maryland and the University of Maryland College Park.
Source: Charles County Public School System