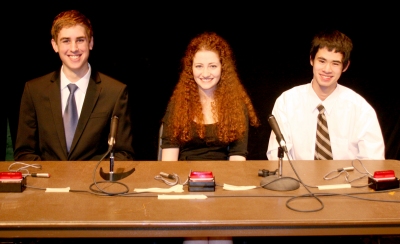 Pictured are La Plata High School's It's Academic team who won first place at the county competition held Dec. 8 at the College of Southern Maryland. From left are Captain Colin Qualters, Melissa Reen and Alex Smith. (Submitted photo)
LA PLATA, Md. (December 9, 2010)—La Plata High School's It's Academic team will participate in the regional televised competition as the first-place winner in the annual Charles County Public Schools competition, held Dec. 8 at the College of Southern Maryland.
The three-member team of Captain Colin Qualters, Melissa Reen and Alex Smith scored 310 points in the championship round against North Point and Thomas Stone high schools to earn the top spot. The school was presented with a $500 scholarship from the Greater Waldorf Jaycees and the team will compete against George Marshall and St. Albans high schools on Feb. 5, which will be aired on WRC TV (NBC 4) March 5.
Max Flerlage is the La Plata team's alternate and Ricky Bamberger, Michael Bradford, William Coggins, Tyler Cox, Julianna Dawson, William "Bao" Dinh, Rex Holmes, Bhaskar Joshi, Molly Monaghan, Ayla Padgett, Matthew Paesch and John Sackman are also members of the La Plata team. Principal is Evelyn Arnold and team coach is Corinne Fox, a science teacher at La Plata.
Placing second in the competition was the North Point High School team, followed by the Thomas Stone High School team in third place. Teams from Henry E. Lackey, Maurice J. McDonough and Westlake high schools also competed. Each of these schools was presented with a $250 scholarship from the Jaycees.
As the second place winner, the North Point team will also earn a chance to compete in a televised competition on NBC 4 next fall. North Point earned second place in last year's county event, earning them a chance to compete in a televised game earlier this fall. They advance to a playoff game against Wootton and Quince Orchard high schools, which will air April 2.
The five other high school three-member teams were: Lackey – Captain Andrew Bode, Chad Myers and Darrin Watson; McDonough – Captain Ross Gardiner, Melissa Bortner and Kevin Shin; North Point – Captain Erin Chapman, Nick Teleky and Gaston Lopez; Thomas Stone – Captain Sean Ward, Alaric Powell and Jessica Wiley; and Westlake – Captain Misha Stone, Leah Warren and Alexia McGowan.
Chynna Keys is the Lackey team's alternate and Jessica Davis, Tamara Dixon, Tenisha Newton, Eric Vines and Jolana Watson are also members of Lackey's team. Principal is James Short and team coach is Don Browder, a social studies teacher at Lackey.
Deanna Huntt is the McDonough team's alternate. Principal is Jervie Petty and team coach is Daniel Brady, a science teacher at McDonough.
Completing the North Point team are Cayley Dymond and Keith Nottingham. Principal is Kim Hill and Peggy DeVeny, a literacy instructional assistant, and Deen Stewart, a foreign language teacher at North Point, are the team's coaches.
Jorge Alamo-Guzman is the Stone team's alternate and Chase Arnold, Emmanuel Bakare, Phil Banky, Dominic Barrasso, Lemuel Carpenter, Mia Chase, Jemm Dela Cruz, Raymond Johnson, Emily Le, Alexys Lewis, Jasper Raguindin, William Turgeon and William Trusnovic are also members of the Stone team. Principal is L.C. Martin and Nancy Jeffrey, foreign language teacher at Stone, is the team's coach.
Asia Lamar is the Westlake team's alternate and Hakeem Brown, Waill Essa, Victoria Lord, Chris Tengco, Sean Thomas, Summer Sandoval and Samantha Wood are also members of the Westlake team. Principal is Chrystal Benson and team coach is James Ressler, an English teacher at Westlake.
The Dec. 8 competition will be broadcast on Comcast Channel 96, the school system's educational television station, and Verizon FiOS Channel 12 later this month. Check the programming schedule at
http://www2.ccboe.com/publicinfo/channel96/schedule.cfm
for dates and times.
Source: Charles County Public School System