By somd.com Staff Writers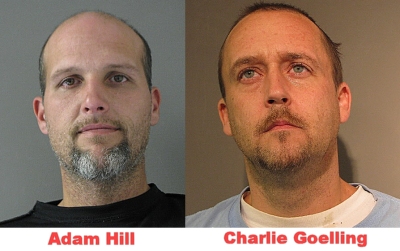 Adam Hill (on left) and Charlie Goelling were arrested today on drug-related charges after police executed a search warrant on a Mechanicsville home. (Arrest photos)
LEONARDTOWN, Md. (December 3, 2010)—Two men were arrested today on drug-related charges after police executed a search warrant on a Mechanicsville home. Adam Hill and Charlie Goelling are currently in custody in the St. Mary's County Detention Center in Leonardtown.
Hill was arrested for possession of cocaine. Police say Goelling was found to be in possession of prescription medication — numerous partial and whole Seroquel pills. A metal spoon was also located, according to police.
Charges against Goelling were compounded when police discovered cocaine inside his shoe during a secondary search at the detention center. Police added the charge of Introducing Contraband into a Correctional Facility.
The search warrant was issued as a result of an investigation by St. Mary's County Sheriff's Office Vice Narcotics detectives into the possible sale of cocaine and prescription medication at the residence.
Additional charges are pending a review by the State's Attorney.