Pipe Replacement Necessary to Reduce Erosion and Flooding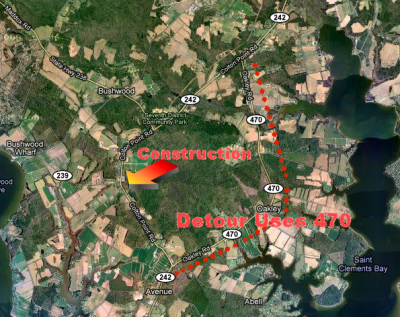 Map shows location of construction and detour route December 3-5. Click for detailed map. (Courtesy Google Maps)
(December 1, 2010) – The Maryland State Highway Administration (SHA) will temporarily close MD 242 (Colton Point Road) just south of MD 239 (Bushwood Wharf Road) Friday, December 3 through Sunday, December 5 to replace two drain pipes. This work is near the Bushwood and Avenue areas of St. Mary's County.
Crews are replacing two pipes that carry MD 242 over a small tributary to Whites Neck Creek. The new pipes will provide more capacity, reducing the risks of flooding across MD 242 and erosion of the roadbed.
The detour route extends four miles, directing motorists to travel from MD 242 to MD 470 (Oakley Road). MD 470 intersects MD 242 both south and north of the work zone. Weather permitting, SHA will reopen MD 242 on Monday, December 6. If weather forces postponement, this work would be rescheduled for the weekend of December 10.