Commentary by Ron Miller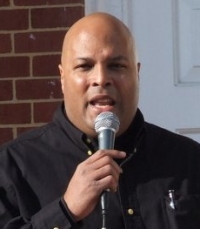 I don't know about you, but I'm tired of my representatives not representing me. I'm not just talking about the fact they don't listen, or that they vote against my values or principles.
The reason they ignore me is because they aren't my neighbors and they don't need my vote to win elections. I know a lot of southern Marylanders, especially in Calvert County, feel this way, and I'm itching to do something about it.
When the local League of Women Voters holds its annual Legislative Evening at the Calvert Pines Senior Center in Prince Frederick, it is usually a spectacle of interest groups lining up one after the other, petitioning the legislators like Oliver asking for more gruel, groveling for a little taste of the government cash to which they've become so addicted.
That usually puts the Calvert County Republican Central Committee in the role of killjoy, reminding everyone that 1) we are out of money, 2) we have billion dollar annual deficits as far as the eye can see because we're spending more than we're taking in, and 3) we are out of money. In fact, our annual message is usually a variation on the same theme. Did I mention we are out of money?
There is one other buzzkill at these gatherings, however. Looking at the head table, I survey the so-called Calvert delegation, our alleged representatives, and of the six people there, only three of them actually live in Calvert County.
One of those three, state Senate President Mike Miller, may as well live in Prince George's County as far as his political fortunes and family ties are concerned.
Despite his residence in Calvert County, his Republican opponent, a man with no name recognition who didn't campaign and didn't raise enough money to meet state reporting requirements, still got over 45% of the vote in Calvert County this year. An energetic candidate with modest resources could have defeated him in Calvert County, and that is precisely why he made sure back in 2002 that Prince George's County was included in his senatorial district.
Of the remaining legislators, their residences are Suitland and Accokeek in Prince George's County, and Great Mills in St. Mary's County. In all cases, the counties in which they live are the only reason they are still in office. In 2010, all three of them lost Calvert County.
Go one level higher; Congressman Steny Hoyer essentially won his 16th term in office because of Prince George's County, even though he lives in Mechanicsville and purportedly represents southern Maryland. Subtract his Prince George's County totals, and the difference between him and his Republican challenger, Charles Lollar, is a mere 572 votes.
Four of the top 20 most gerrymandered congressional districts in America are in Maryland. Three of those are not even contiguous.
There's a message in all of this, and it is that redistricting favors the politicians and not the people.
And that is why my representatives don't represent me.
Why is Calvert County divided into three separate legislative districts, only one of which is wholly contained within the county?
What possible reason could there be for disenfranchising the people of Dunkirk, Owings and parts of Huntingtown by separating them from Calvert County and including them in the same legislative district with southern Prince George's County?
Wayne Curry, Prince George's County's first black county executive, complained in 2002 about this arbitrary drawing of the lines that put southern Prince George's County and north and central Calvert County in the same senatorial district. He attacked the plan for shortchanging his predominantly black county, and he wanted the map drawn to cut Mike Miller's representation of Prince George's County, especially since Miller no longer lived there.
The only ones who are happy with this arrangement are the incumbent politicians.
That leads me to a proposal. We know that the one-party monopoly in Annapolis is only concerned about its own preservation, and with redistricting on the docket next year, the temptation to draw the lines in their favor is great indeed. If we want real representation, we need to get in the middle of this process quickly and demand to be heard.
We need to follow the example of several other states, most recently California, which this year is establishing a citizens redistricting commission to draw the new legislative boundaries.
This is a non-partisan issue; just as Calvert County shouldn't be yoked with Prince George's County due to their different priorities and demographics, neither should Prince George's County be used by a certain politician living in Calvert County simply as a lever to hold onto his seat in office.
Similarly, if Prince George's County wants Steny, then let them have him, and stop shoving him down the throats of those who have tired of his faux moderate act and his arrogance toward anyone who disagrees with him, which this year included most of southern Maryland.
I will be talking to community leaders and elected officials to see if we can stir up some support around the idea of petitioning Annapolis for a citizens redistricting commission. All we ask is to be represented by men and women who live among us and share our values and concerns. That's not controversial, is it?
Ron Miller is a conservative writer and commentator, author of the book, SELLOUT: Musings from Uncle Tom's Porch, and the president of Regular Folks United, a non-profit organization dedicated to the advancement of individual liberty, free markets and our nation's founding principles. The nine-year plus veteran of the U.S. Air Force and married father of three writes columns for several online sites and print publications, and his own website, TeamRonMiller.com. Join him on Facebook and Twitter.