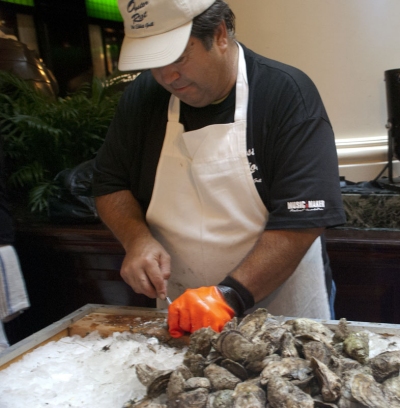 Oyster shucker Wayne Copsey of Mechanicsville has been coming to the Oyster Riot every year since it began. He said he was the U.S. National Oyster Shucking champion in 1982 and 1989. The Oyster Riot this year donated a portion of its proceeds to the Oyster Shell Recycling Alliance. The alliance collects oyster shells from area restaurants and recycles them back into the bay. (Capital News Service Photo by Nicole Dao)
By NICOLE DAO
ANNAPOLIS (November 24, 2010)—For the past year, the Oyster Shell Recycling Alliance has collected oyster shells from restaurants, caterers and seafood wholesalers in an effort to restore the dwindling oyster population in the Chesapeake Bay.
The program has collected nearly 2 million individual oyster shells in its inaugural year that could help to plant more than 20 million oysters back into the bay over the next year.
Instead of allowing thousands of oyster shells to be thrown away, the Oyster Recovery Partnership started the alliance in 2008 to help recover the precious commodity.
"Oyster shells are a limited natural resource that provide a place for new oysters to grow on," said Stephan Abel, executive director of the Oyster Recovery Partnership, who also emphasized the importance of oyster shells providing habitat for other marine wildlife such as blue crabs and fish.
The alliance is made up of 50 establishments from Maryland, Virginia and D.C. that collect a minimum of five, 32-gallon containers of cleaned shells to be picked up regularly by the partnership, Abel said.
Old Ebbitt Grill, a district restaurant, started donating its shells in 2007 before there was a formal recovery program. They initially donated 50,000 oyster shells from their annual Oyster Riot event.
Since then, staffers from the partnership collect used shells from the restaurant on a weekly basis.
Old Ebbitt Grill sells an average of 3,000 oysters per day, said Christian Guidi, general manager of the restaurant.
On Saturday, the restaurant held its first annual Oyster Matinee event, a preview to the Oyster Riot, which served thousands of oysters to 500 hungry customers. A portion of the event's proceeds will go to the Oyster Recovery Partnership, Abel said.
In the last nine months, Abel said alliance membership has doubled because restaurants have benefited from the program, not only by becoming sustainable businesses and saving money on trash costs, but because they care about restoring a species that can help clean up the bay.
"It was natural for us to partner (with the program) and give back to a resource that has given so much to us," Guidi said.
Guidi said oysters are an asset to the bay because they act as "nature's filtration system," clearing harmful algae and sediment from the water.
A single oyster can filter up to 50 gallons of water a day, said Bryan Kent Gomes, who provides education and outreach for the Oyster Recovery Partnership.
After the shells are collected from establishments, they are delivered to Horn Point Lab Hatchery in Cambridge, which is operated by the University of Maryland Center for Environmental Sciences, Abel said.
A year later, oyster larvae are added to tanks where they can attach to shells and mature into spat, which are then planted into safe and strategic locations in the bay.
"Through all these efforts, I think we can restore the oyster population in the Chesapeake Bay," said Michael Rubino, aquaculture program manager of the National Oceanic and Atmospheric Administration, a partner of the program.
More than 85 percent of historic oyster reefs have been lost globally and 99 percent have been lost in the bay, said Rubino, who noted this effort as a good start in a long process.
"As much as it's good to get shell, we are really trying to raise awareness of the issue," Abel said.
Since 2000, the partnership has planted more than 2.5 billion oysters on 1,400 acres of oyster reef in the bay.