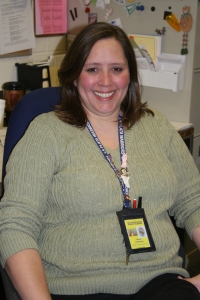 Leslie Schroeck, a school counselor at La Plata High School. (Submitted photo)
LA PLATA, Md. (November 15, 2010)—Leslie Schroeck, a school counselor at La Plata High School, was recently named a 2010 Outstanding School Counselor by the Maryland School Counselor Association (MSCA). The award recognizes school counselors for outstanding achievement and service to students and for providing leadership in the development of existing and future counseling services.
Schroeck was selected for her expertise and knowledge in school counseling, serving on numerous school committees, presenting workshops on the role of school counselors and student success, and for her dedication to helping students with post-graduate plans, and supporting their academic and social needs.
"I am truly honored to be recognized by MSCA for doing a job that I love in a school system that recognizes the importance of school counselors. The best part of my job is knowing that I can make a difference in the lives of my students," Schroeck said.
Schroeck is the counseling department chair at La Plata, where she has worked for 14 years. She is a member of the school improvement, budget and principal advisory committees, and was recognized by the Board of Education in May as La Plata's exemplary employee.
Her nomination was spearheaded by La Plata Principal Evelyn Arnold and Jeanette Kaufmann, supervising counselor for Charles County Public Schools. "Leslie Schroeck is, simply put, amazing. If you ask any of our 28 high school counselors who they turn to when they have a question, you will get the same response: Leslie Schroeck. She is the most trusted source for counselors across all six county high schools, and across all experience levels," Kaufmann wrote in her award nomination letter.
Arnold said she turns to Schroeck for advice and guidance on school-related matters and is her "go-to" person at La Plata. "Mrs. Schroeck is a wonderful counselor and advocate for students. She is a skilled professional who is an integral part of our school community. She is well deserving of this award and I congratulate her on her recognition" she said.
She was honored for her contributions to school counseling, and as one of three outstanding high school counselors in Maryland, during the MSCA fall conference held Oct. 15. She will be honored by the Board of Education for his achievement later this year.
Schroeck began her career with Charles County Public Schools in 1990 as a mathematics teacher at Benjamin Stoddert Middle School, and transferred to La Plata as a school counselor in 1997. She has a bachelor's of science degree in secondary education from Slippery Rock University and a master's of education from Bowie State University.
Nominees must have at least three years of school counseling experience, a master's degree in guidance and counseling, and must be certified as a school counselor by the State of Maryland. Nominees must also have been responsible for providing leadership in counseling services and outstanding service to the school community.
For more information on the MSCA, visit
http://www.mscaonline.org/
.
Source: Charles County Public Schools