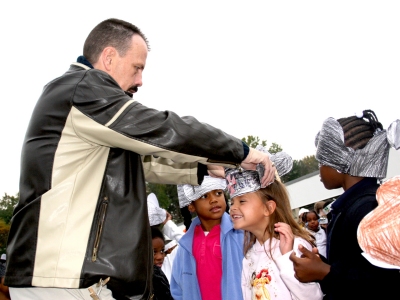 Joseph McMahan, a first-grade teacher at Dr. Gustavus Brown, helps student Selah Calacan put on her birthday hat. (Submitted photo)
LA PLATA, Md. (November 15, 2010)—Dr. Gustavus Brown Elementary School students, teachers and staff recently celebrated Dr. Gustavus Brown's 263rd birthday, with a parade, hats and signs. Dr. Brown was born October 17, 1747, and each year the school honors its namesake with a birthday bash. The school is located in Waldorf.
Students paraded around the parking lot while chanting, "R-E-S-P-E-C-T, Dr. Brown's the place to be!" The parade gave the students a chance to show off the hats, signs and cards they made to tell Dr. Brown's story, including his profession, birthday and the time period in which he lived. The students worked on their projects during social studies and art classes and in their spare time at home. Jack Belle, a science teacher at Brown, was also lifted in a Cherry Picker to shoot an aerial picture of the students, which is a tradition at the school.
Staff also worked Dr. Brown's birthday into classroom lessons, Principal Marvin Jones said. "We asked our teachers to do a mini-lesson familiarizing our students with who Dr. Brown was, the fact that he lived in our county and what he's most well-known for," Jones said.
Dr. Gustavus Brown was a physician and friend of President George Washington. Brown was asked to assist in the president's medical treatment the night Washington died.
This is the third year Dr. Brown's students have held a birthday celebration.
Source: Charles County Public Schools