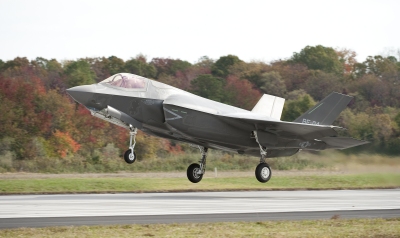 A Lockheed Martin F-35B stealth fighter lifts off from Naval Air Station Patuxent River, Md., carrying Block 1 software, the fundamental building block for all future avionics software on the F-35. (Photo: Lockheed Martin Aeronautics Company)
NAVAL AIR STATION PATUXENT RIVER, Md. (November 15th, 2010)—The fundamental building block for all future avionics software on the Lockheed Martin [NYSE: LMT] F-35 Lightning II stealth fighter has entered flight testing on an F-35 test jet.
"Block 1," the first of three principal software-development blocks for the F-35's mission systems, made its inaugural flight on Nov. 5 in the F-35B short takeoff/ vertical landing (STOVL) aircraft known as BF-4. The functional check flight from Naval Air Station Patuxent River lasted 1.5 hours, and all planned test points were accomplished.
"Getting this software up and flying in an F-35 is a big step in the process of validating our avionics system and ensuring that it operates in a way that gives our warfighters a clear advantage over any adversary," said Larry Lawson, Lockheed Martin F-35 program general manager. "The flight went as planned, and we look forward to expanded mission systems testing in the coming months."
The Block 1 software will enable most of the primary sensors on the F-35, which possesses the most powerful and comprehensive mission systems package of any fighter ever to fly. Block 1 forms the foundation of all subsequent software blocks. It enables information fusion from the F-35's radar, electronic warfare system, distributed aperture system, electro-optical targeting system and other sensors, and provides initial weapons-release capability.
Block 1 has been undergoing airborne testing since May on the Cooperative Avionics Test Bed, a highly modified 737 airliner that incorporates the entire integrated F-35 mission systems suite, including an F-35 cockpit. The test bed provides initial in-flight validation for F-35 software blocks before they are introduced into actual F-35 aircraft.
The F-35 Lightning II is a 5th generation fighter, combining advanced stealth with fighter speed and agility, fully fused sensor information, network-enabled operations and advanced sustainment.
Lockheed Martin is developing the F-35 with its principal industrial partners, Northrop Grumman and BAE Systems. Two interchangeable F-35 engines are under development: the Pratt & Whitney F135 and the GE Rolls-Royce Fighter Engine Team F136.
Source: Lockheed Martin Aeronautics Company