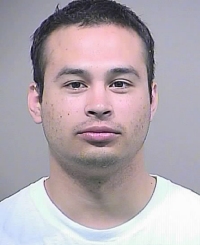 Jonathan Wittlinger, 22, was arrested in New York state Thursday in connection with the kidnapping of a former roommate. Wittlinger allegedly drove the victim to the restaurant where he worked in order to gain entry and steal money. Wittlinger fled to New York after returning the victim to his home. (Arrest photo)
CALIFORNIA, Md. (November 13, 2010)—A man identified as the suspect involved in the November 10 kidnapping of a former co-worker and robbery of the California Tortilla in Waldorf, was arrested in Canandaigua, New York on Thursday.
Detectives with the Charles County Sheriff's Office obtained an arrest warrant and tracked Jonathan Wittlinger, 22, of no fixed address, to Canandaigua. On November 11 at 11:30 p.m., authorities with the New York State Police located Wittlinger inside a relative's apartment, in a complex called The Pines on Buffalo Street, and arrested him without incident. He was charged as a fugitive from justice and is awaiting extradition to Maryland where he will be charged with kidnapping and robbery.
Police determined the victim, a current employee of the restaurant, was abducted from his residence on Thistle Place at gunpoint by the Wittlinger, a former roommate and co-worker. Wittlinger drove the victim to the restaurant, which was closed at that time, and ordered him to unlock the door. Once inside, Wittlinger stole money. After the robbery, Wittlinger drove the victim back to the victim's house and dropped him off. The victim notified police.