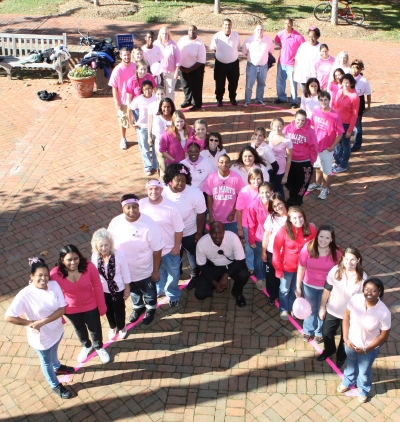 Students and faculty join for a group photo during Breast Cancer Awareness Day. (Photo: Bill Wood)
ST. MARY'S CITY, Md. (November 11, 2010)—St. Mary's College of Maryland's efforts to increase breast cancer awareness hit especially close to home this year because the popular associate dean of students and director of residence life, Joanne Goldwater, is going through her own battle with the disease. The college's Pink Week, including raffles and fundraisers, ended with Pink Day, Friday, October 29, when pink-attired students, faculty, and staff gathered for a group photo in the shape of the campaign's pink ribbon.
Goldwater, diagnosed in August, is chronicling her experience in the student newspaper, The Point News. "My cancer diagnosis was the impetus for me to try to help others," she said. "Knowledge is power and sharing that knowledge is education. If we can get people to think about cancer, then more people will talk about cancer and hopefully take action for themselves and others.
"I was diagnosed with breast cancer seven weeks ago, so Pink Day means a great deal to me. The support I have received from family, friends, students, faculty, staff, and alumni has energized me in a way that I can't fully describe. I know that many people are rooting for me and that really makes a difference!"
Even Public Safety officers wore pink polo shirts. "We are a family down here," said Public Safety Officer Mary Johnston. "When we were each asked individually if we wanted to do it, there was no hesitation."
"I'm here to support Joanne," said student Emma Decker '12, of Pittsburg, Pennsylvania, who is in a sign language class taught by Goldwater. "I am here to support the whole cause and to set an example," said Cory Pugh, '11, Hyattsville, Maryland.
The college's catering group, Bon Appétit, conducted a number of raffles, with all proceeds being donated to the Susan G. Komen Breast Cancer Foundation. The college will also have a Relay for Life fundraiser February 26, which supports breast cancer research.