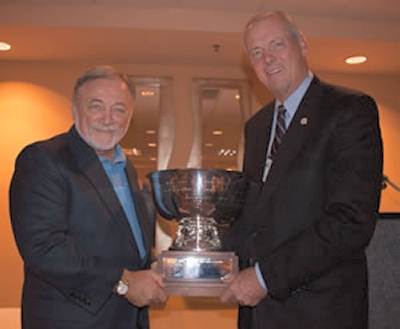 Jim Muldoon (pictured left) was presented with US Sailings highest award by US SAILING's President Gary Jobson. (Submitted photo)
PORTSMOUTH, R.I. (November 11, 2010) - US SAILING, the National Governing Body of the sport, has awarded Jim Muldoon (Washington, D.C.) its prestigious Nathanael G. Herreshoff and Timothea Larr Trophies for his outstanding contributions to the sport of sailing in the U.S. over many years. Muldoon, a former president of US SAILING, has been a strong advocate of community sailing programs at the grass roots level, especially in the areas of youth sailing, training, and safety. He recently received the awards at US SAILING's Annual Meeting in Phoenix.
I've witnessed first-hand how sailing can change lives," Muldoon reflected. "Through the Special Olympics, the many wonderful community sailing programs around the country, and our own Brendan program for kids with learning differences, I believe sailing is transformative. For everything it has brought to my life, I believe I owe that experience to anyone who wants it. That's why I am so committed to making sailing accessible for everyone—regardless of economic status and physical or intellectual ability."
The Nathanael G. Herreshoff Trophy is US SAILING's most prestigious award. It is presented annually to an individual who has made an outstanding contribution to the sport of sailing in this country in any associated activity. Past winners have included Harold Sterling Vanderbilt, Harry C.Melges, Jr., Gary Jobson and Roy E Disney.
Muldoon has held more than 30 leadership positions over the years, including the following: chair of the Department of Homeland Security's National Boating Safety Advisory Council, member of the Board of Directors and chair of the Development Committee for the Coast Guard Foundation, founder and president of The Brendan Sailing Training Programs for Youths with Learning Differences, and founding board member and vice president of the National Sailing Hall of Fame. He also has served US SAILING in numerous capacities, including as president of the organization, vice president of the Government Relations Committee, administrative division director, and chairman of the Training Committee.
Muldoon received the Timothea Larr Trophy for the vision and guidance he has provided to the advancement of sailor education in the United States. He has been a prominent figure in the area of community sailing education throughout his boating career.
As Chair of the Department of Homeland Security's National Boating Safety Advisory Council for 12 years, he has influenced the direction of boating safety and increased the awareness and value of on-the-water, skills-based training. As Chairman of the Board of Trustees of St. Mary's College of Maryland, he supported the sailing program and collegiate team and was a major advocate of the college's new sailing center with classroom facilities for sailing classes and where any student, faculty or staff member can learn to sail free of charge or use the college boats. He facilitated the arrangement between St. Mary's College of Maryland and the National Water Safety Congress where Spirit of America's boating safety courses are taught to middle school students at St. Mary's College.
Muldoon also founded and developed the Brendan Sail Training Program for Students with Learning Differences which offers sailing instruction for youth in Maryland.
He visualized the concept and established a National Faculty while he was Chair of US SAILING's Training Committee. It became the curriculum and standards development engine for the education and training of students, instructors, coaches, and instructor trainers. He also played a key role in the development and funding approval of US SAILING's National Keelboat Training and Certification Program.
He assisted with the development of the U.S. Coast Guard's Strategic Plan of the National Recreational Boating Safety Program assuring that US SAILING was one of the 38 organizational signatories. Most recently, he advised the U.S. Coast Guard and its Boating Safety Division that on-the-water, skills-based training is necessary to increase safety and reduce accidents and fatalities. This is a major sea change from the Coast Guard's previous reliance on classroom only courses and publication of safety brochures. As a result, more Coast Guard nonprofit grants are being directed toward funding on-the-water programs. The Coast Guard and many national boating organizations now recognize US SAILING as a leading on-the-water training organization.
Muldoon has played a significant role in strengthening US SAILING's partnership with the U.S. Coast Guard. Last July, the U.S. Coast Guard awarded US SAILING with a significant one-year Drivers Education for Boaters™ grant.
US SAILING President Gary Jobson commented on Muldoon's achievements: "He has been, and always will be an outstanding asset to US SAILING and the general sailing community."
Muldoon is founder and CEO of METCOR, a government relations and high technology training company. He resides in Washington, D.C. with his wife Linda. They have one son, two daughters, and five grandchildren.
Source: The United States Sailing Association (US SAILING)