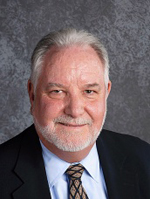 LA PLATA, Md. (November 4, 2010)--Ronald Stup, principal of Matthew Henson Middle School in Indian Head, died suddenly Nov. 3 following a brief illness. Mr. Stup, who was a former teacher and vice principal, served as Henson's principal for the past decade. Colleagues described him as a personable, positive leader who did an outstanding job.
"Mr. Stup did an outstanding job as principal and he was respected and liked by both teachers and students. He was a positive leader, and always looked for the best in his students and his school. We are saddened and shocked by his death, and this is a tremendous loss for Matthew Henson and Charles County Public Schools. I'm going to miss him," Superintendent of Schools James E. Richmond said.
Students and staff were informed of Mr. Stup's passing this afternoon. A team of school psychologists, pupil personnel workers and guidance counselors were available at the school to provide support to students and staff.
Mr. Stup started his career with Charles County Public Schools in 1976 as an English teacher at John Hanson Middle School. He taught at Hanson for 10 years before transferring to Maurice J. McDonough High School in 1986. He served for two years as an English teacher at McDonough, and was promoted as vice principal at the school in 1988. He also served as a vice principal at La Plata and Westlake high schools before being appointed as principal of Henson in 2000.
"Mr. Stup had a great ability to work well with people, and he was always student-centered. He cared deeply about the welfare of the students and staff at his school, and he worked hard to help his students be successful every day. His dedication to his students' accomplishments was evident in everything he did," Deputy Superintendent Ronald Cunningham said.
Mr. Stup earned his bachelor's degree in English Education and a master's in Administration, Supervision and Curriculum, both from the University of Maryland. He also held an advanced professional certification in English for grades 5-12.
Source: Charles County Public School System