By Guy Leonard, County Times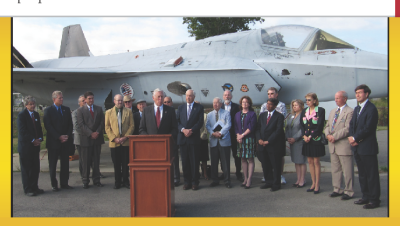 This photograph, captured from a political ad paid for by the Hoyer for Congress Committee, shows Democrat candidates Steny Hoyer, John Bohanan, and Jack Russell standing in front of a retired Navy jet on what is known as the "Flight Line" on Naval Air Station Patuxent River. Also in the photo is retired long-time DoD employee Robert Waxman, former executive director of Webster Field, and former NAS Commander Capt. Glen Ives (Retired). DoD rules prohibit political activities on military property. Navy and museum officials say the entourage showed up unannounced and did not seek advance permission from the Navy or the Air Museum. Caption by somd.com. [ Click photo for larger rendition ]
HOLLYWOOD, Md. (October 28, 2010)—A campaign event Oct. 15 where House Majority Leader Steny Hoyer received the endorsement of several defense community insiders violated Department of Defense (DOD) rules that prohibit political activities on military property.
Hoyer's campaign hastily staged the event in the confines of what is known as the "flight line" at Patuxent River Naval Air Station, which is U.S. military property. The event was held without notifying the base or the museum, officials confirm.
The land upon which the actual museum building sits is on county-leased property, but political events are also prohibited there. Edward Zeigler, spokesman for the Naval District of Washington, said that Hoyer's campaign was in error for having the event on military property.
"It's against DOD policy," Zeigler told The County Times. "I'm not going to speculate as to what they were thinking, but the event wasn't coordinated with anyone at Pax River or the museum."
Local GOP officlas have since complained that the event was a backhanded tactic to bolster Hoyer's image as a stalwart advocate and guarantor of the critical defense industry at Pax River.
Todd Eberly, political science professor at St. Mary's College of Maryland, said politicians with Hoyer's long term experience should have known better.
"You're best just to assume you shouldn't have a campaign event there," he said. Officials with Hoyer's office said it was an oversight.
"We apologize if the use of the facilities was in any way inappropriate," said Maureen Beach, spokeswoman for Hoyer. "We believed we were using them appropriately."