By Sarah Miller, County Times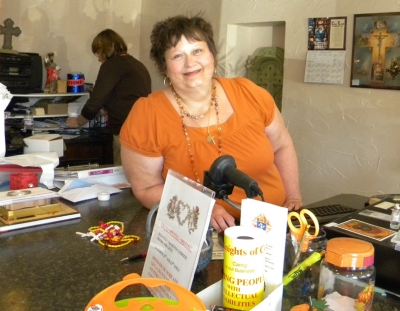 Pat Copsey at the cash register during the grand opening of Heavenly Presents in Leonardtown. (Photo: County Times)
HOLLYWOOD, Md. (October 28, 2010)—Pat Copsey, the manager of Heavenly Presents in Leonardtown, has finally gotten the chance to establish the business in a space of it's own.
Since 1997, Heavenly Presents has shared space with other businesses. At first it was in Cutting Edge, then in the Joe Stone Nationwide Insurance Building on Point Lookout Road.
Copsey said the store moved to the new location a few months ago, but they held off the formal Grand Opening until they could get everything settled and the inventory built up to support a larger store.
Some of the inventory comes from what Copsey called the "extended church family." This includes coffees and chocolates made by monks and jewelry and other items made by local community members.
The new location on Washington Street in downtown Leonardtown is the first time Heavenly Presents has had a storefront to call its own.
"It's not just to sell religious artifacts," Copsey said. "It's a welcome mat for people to come share their faith."
With a larger space, Copsey said they have "more space to offer more." The more doesn't just apply to merchandise. The store has a space to use as a daycare center and another space for bible studies and other gatherings.
Copsey said the initial idea to open a Catholic store came from a friend of hers when Copsey was living in Washington, D.C.
"The desire to do this was stronger than what my plans were for myself," Copsey said. She quit her job and started the first Heavenly Presents.
Heaveny Presents is a partner with the Bread of Life Center for Peace and operates as a non-profit organization. Copsey said that currently the money that comes into the store goes back into the upkeep for it, but she hopes that eventually they will be able to open the store full time and use the profits to help people in need.
Copsey said that the people at Heavenly Presents aren't councelors, but if somebody needs to vent she wants them to know they have a shoulder to cry on at the store.
"It's not about me, but it's what God is doing through this little ministry," she said.
She said she couldn't have started or kept Heavenly Presents open without the support of her friends and the community. A lot of prayer went into getting Heavenly Presents to the point where it is today.
Copsey hopes the store is a blessing to the community and that the people who come to Heavenly Presents also patronize the other stores in downtown Leonardtown.