By Guy Leonard, County Times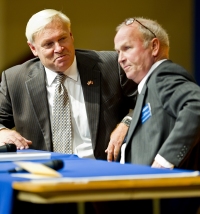 St. Mary's County Commissioner President candidates Thomas F. McKay (R), left, and Jack Russell (D) face off at a public forum in Leonardtown. (Photo: Frank Marquart)
HOLLYWOOD, Md. (October 28, 2010)—The two men seeking the commissioner board presidency, incumbent Democrat Francis Jack Russell, 67, of St. George Island, and former office holder and GOP candidate Thomas F. McKay, 53, of Hollywood, went head-to-head Monday night in a debate about their records as commissioner president.
McKay opened the forum at Leonardtown High School by pointing out that property taxes were allowed to rise to unacceptable levels under Russell, which has stifled businesses.
McKay highlighted the fact that county budget documents prove that during his time in office from 2002 to 2006 the county was collecting about $64 million in property taxes per year, but now the county is collecting $99 million, which is an actual increase of 55 percent.
"That's money that is killing local business but more importantly it's killing homeowners," McKay said. "No one in this room has had less than a 22 percent increase in the last four years."
McKay argued that when income levels in the county were on the rise residents were better able to absorb property tax increases, but a sagging economy made that difficult.
Russell claimed that the county remains the fifth lowest-taxed jurisdiction in the state, but the expense of county operations increase every year.
"Our constant yield does not take into account any concept of growth in St. Mary's County," Russell said about keeping property tax revenues the same from year to year. "Everything we touch costs more money … There is a direct correlation between the amount of property taxes collected and services rendered."
McKay criticized the current administration in the county, and the federal government, because the public has no confidence in the way government is run, especially when it comes to spending.
McKay said his method for jumpstarting the economy will be to reduce the income tax rate and ensure a property tax refund for the following year. He also said the government should lay aside regulations that stifle business.
"We'll set them aside until businesses can recover and we can get unemployment back down and we can get our businesses growing again," McKay said.
Russell said that McKay's plans might be harder to push through than he thinks.
"He is but one of five votes on the board of county commissioners," Russell said, adding that property tax cuts would hobble government.
"I need to remind my opponent that he came into office during flush times," Russell retorted. "It's no time in an economic downturn to look to cut property taxes."
Russell also accused McKay of presiding over a board of county commissioners that increased spending in the county during his term by almost half, a claim that was debunked by McKay.
"He certainly should know about surplus of government because he increased spending during his term by 42 percent," Russell said. "In my term we've increased spending by 13 percent."
Russell misrepresented the record, McKay said, showing that during his term the county set aside $20 million to reduce county debt and $1.5 million for a rainy day fund. So, Russell's 42 percent figured was derived from measures that saved the county money, which is not new spending.
Mckay also pointed out that a look at the funds actually spent on reoccurring expenditures show Russell's four-year expenditures were $766,151,681 compared to McKay's which were $591,378,553.
"Mr. Russell remains either woefully uninformed or willfully deceptive when it comes to government and spending taxes," McKay said. "However, when you use tax dollars to purchase a $5 million property valued at just $3 million, it is probably a good idea to hope that the public will be confused by the numbers."
County Times Editor Sean Rice contributed to this story.