By somd.com Staff Writers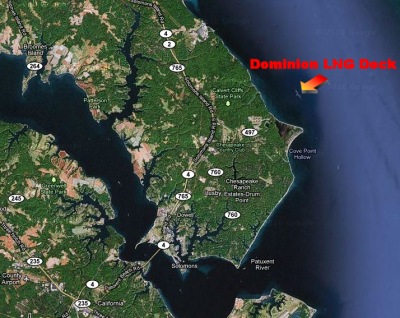 Location of the Dominion LNG dock off the coast of Calvert County in the Chesapeake Bay. (Map courtesy of Google Maps)
PRINCE FREDERICK, Md. (October 26, 2010)—A Florida man is dead as a result of a work-related accident Saturday at the Dominion Liquid Natural Gas (LNG) Plant Gas Dock located at 2100 Cove Point Road Lusby, Calvert County. The 45 year-old man was identified as Mark Eugene Copeland, also known as "Country," from Palmetto, Florida.
The preliminary investigation by police revealed that Mr. Copeland was working for Greg's Marine as a laborer. His duties this day were to chip away old cement jackets placed over pilings at the gas dock, preparing these pilings for new jackets, approximately 1 mile off the coast of Calvert County. While conducting this task, Copeland was equipped with a neoprene wet suit, fins, a harness, and a diver's helmet. Copeland slipped underwater and continued to the bottom of the Chesapeake Bay, approximately 40 feet. After several attempts, Copeland's supervisor finally rescued his unconscious body from the Bay's floor.
CPR was conducted by Copeland's co-workers as well as medical staff and members of the Calvert County Sheriff's Office, according to police. Copeland was subsequently transported to Calvert Memorial Hospital in Prince Frederick where he was later pronounced deceased.
Calvert police contacted a local forensic investigator who responded to the hospital to examine the body. Police say the investigation revealed there were signs of trauma.
Mr. Copeland's body was transported to the Office of the Chief Medical Examiner in Baltimore for an autopsy.
The Calvert County Sheriff's Office, their Special Operations Team (SOT), and Maryland State Police responded to the accident.
This investigation is on-going and is being handled by TFC M. Roy of the
Calvert Investigative Team (CIT)
and the United States Coast Guard.