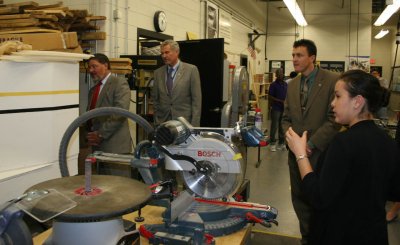 Elliot Pulham, the chief executive officer of the National Space Foundation, pictured left, participates in a biochemistry lab with North Point High School seniors Blaire Cope­land, center, and Bianca Varela, right, during his tour of the school with Principal Kim Hill on Tuesday, Oct. 12. (Submitted photo)
LA PLATA, Md. (October 18, 2010)—Carrie Lamb took what she learned this summer at the Space Discovery Institute back to Benjamin Stoddert Middle School and her earth and life science classes. She not only added new lessons, but is also introducing distance learning, a Rocketry Club and changing the Robotics Club to include a space focus.
That is what the Space Discovery Institute is all about – hands-on learning and exciting teachers about different ways to make learning fun – Elliot Pulham and Iain Probert of the Space Foundation told the Board of Education this week. Since 2007, Charles County's teachers have done more to infuse space in their classrooms after attending the Space Discovery Institute, which is part of a four-year partnership that has grown each year.
Pulham, who is the chief executive officer of the Space Foundation, visited Charles County Public Schools this week to review programs, talk about the Foundation's mission and discuss future partnerships with the school system. Pulham gave Board members an overview of the foundation's mission as an education industry that blends its work with research, a think tank operation and global partnerships to provide education about space, develop peaceful uses of outer space and to promote how developing products for space help make life on earth better.
The Space Foundation's partnership is on the verge of moving forward with the addition of St. Charles High School and Telepresence as a link, Pulham said. "Education is so central to who we are," he said, and added that the Space Foundation has done research on the effectiveness of introducing space into the classroom. "If you can make it about space, the students will be interested in what teachers are saying," Pulham said.
Probert, the Space Foundation's vice president of education, said the partnership with the school system involves prekindergarten through grade 12 and integrates space into the classroom to improve student interest and skills in science, technology, engineering and math (STEM). He updated the Board on the foundation's partnership with School District 11 in Colorado, which includes working with an underperforming school to improve instructional rigor through the use of space education. The school obtained, through grants, a space mission simulator, technology, a robotics lab and a Mars Yard that simulates Martian terrain and allows students to learn the basics of programming, operating and building robots. The students steer the robots in Mars across computer monitors.
"When students see teachers get excited about something, they get excited," Probert said as he updated the Board on the graduate level Space Institute courses the Space Foundation offers for Charles County teachers. Additionally he spoke about other joint programs including teacher liaisons who become advocates for space education; New Horizons, a community-centered science enrichment program for teachers and students; STARS, which introduces science, technology and academic readiness at the early childhood level; and National Space Symposium education events.
Superintendent James Richmond said as the partnership with the Space Foundation continues, he wants to involve more students. "We have to grow children to have a love of math and science. Beginning with early childhood, we have to engrain in them that they can learn math and science. STEM is critical for higher learning skills," Richmond said.
Richmond also said he hopes the future of the partnership includes a Charles County Aerospace Institute as well as a substation of the Space Foundation at the new high school.
Before leaving Charles County, Probert promised the Space Foundation would set up a remote opportunity for Charles County Public Schools by allowing Board members and students to operate the robots in the Colorado-based Mars Yard from La Plata.
That's a start, Richmond said, but his goal is for Charles County Public Schools students to have their own Mars Yard.
To learn more about the National Space Foundation, visit www.SpaceFoundation.org.
Source: Charles County Public Schools