Police say other arrests may be forthcoming
By somd.com Staff Writers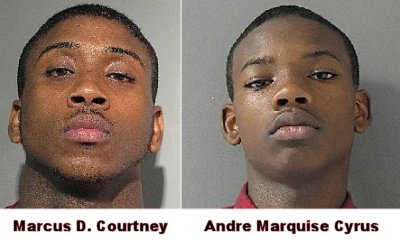 Marcus D. Courtney, 18, of Lusby, and Andre Marquise Cyrus, 17, of Hollywood, have been charged in connection with the Sept. 30 armed robbery of the Hollywood McKays grocery store. (Arrest photos)
CALLAWAY, Md. (October 14, 2010)—Police this week arrested and charged two local teens in connection with the armed robbery of McKay's Food and Drug, located on Hollywood Road in Hollywood, that occurred on September 30 around 10 p.m.
On Tuesday, detectives from the St. Mary's County Bureau of Criminal Investigations (BCI) executed two search and seizure warrants at two locations in Hollywood and recovered various items related to the robbery. Subsequent to the execution of the warrants, Marcus D. Courtney, 18, of Lusby, was arrested and charged with armed robbery and theft over $1000.
Today, BCI detectives arrested Andre Marquise Cyrus, 17, of Hollywood, and charged him as an adult with armed robbery, conspiracy to commit robbery, first degree assault, and theft over $1000.
Detectives say additional charges are pending against other suspects.